Red Hat Calls Microsoft Attack Unsubstantiated
Oct 12, 2007
Speaking in an interview with Linux Magazine, Germany, Werner Knoblich, Red Hat Germany boss, and Red Hat Vice President EMEA, called the verbal attacks by Microsoft CEO Steve Ballmer unsubstantiated.
LM: Microsoft boss Steve Ballmer again demanded license payments from Linux users at a conference in Great Britain, and specifically referred to Red Hat (see separate news item). What will Red Hat's response to the new attacks be?
Knoblich: We don't respond to unsubstantiated attacks like this. Instead we will carry on doing our jobs, which are optimizing software and services for our customers to offer the greatest possible value at the lowest possible price. Nothing can distract our attention from our mission.
LMO: Would Microsoft have any chance of success with a lawsuit against Linux users?
Knoblich: Just like other vendors, Microsoft has been unable to substantiate patent infringements or claims for license fees against Open Source software. In fact, Microsoft has not even said what these claims are based on. Our customers are also protected by our Open Source Assurance policy. This insurance guarantees that, if patent infringements are proved by anyone, anywhere, we will replace the affected code for our customer with code that provides the same functionality but does not infringe on any patents. But like I said, no infringements have been proved. As the Linux source code is open, it would be easy to demonstrate infringements, if there were any. As this has never happened in all the years that Linux has been around, you can safely assume that there are no infringements. In contrast to this, proprietary vendors are continually forced to admit to patent infringements. I would worry if I used proprietary software. Our customers are definitely on the safe side, thanks to the Open Source Assurance.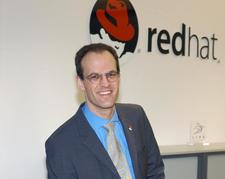 Red Hat Germany boss Werner Knoblich talking about Steve Ballmer's attacks.
LMO: What does Red Hat suspect is the motive for the recent attacks?
Knoblich: We could only speculate on that, but we prefer to go about our core business.
LMO: Have there been talks on cooperation with Microsoft on anything beyond interoperability of the two operating systems?
Knoblich: We are still talking to Microsoft about interoperability: this applies in particular to our JBoss Enterprise Middleware, but we rule out an agreement on patents like the one concluded between Novell and Microsoft.
comments powered by

Disqus

Issue 199/2017
Buy this issue as a PDF
Digital Issue: Price $9.99

(incl. VAT)
News
Both projects help organizations build their own containerized systems.

Mark Shuttleworth has resumed the position of CEO of Canonical.

Microsoft's open source code hosting platform CodePlex will come to an end after a more than 10-year stint.

Comes with Gnome 3.24

The bug was introduced back in 2009 and has been lurking around all this time.

The new release deprecates the sshd_config UsePrivilegeSeparation option.

Lives on as a community project

Five new systems join Dell XPS 13 Developer Edition that come with Ubuntu pre-installed.

The Skype Linux client now has almost the same capabilities that it enjoys on other platforms.

At CeBIT 2017, OpenStack Day will offer a wide range of lectures and discussions.
Tag Cloud