Manage your ebooks
Convert Books
Calibre supports conversion to and from a number of ebook formats. Choose the title you wish to convert, and then click on the Convert Books icon at the top of the screen. The pop-up box that appears displays all the information for the book you are converting (Figure 3). This includes the input format, title, author, publisher, and tags (if any). Select the output format by clicking on the drop-down button at the top right of the screen. The left-hand side of the screen displays options you may wish to edit, such as metadata, page setup, table of contents, heuristic processing, etc.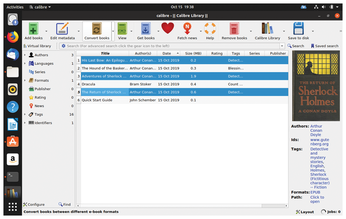 There may be times where you need to convert a lot of different books to the same output format. You don't have to go through this process for each book manually. Use your mouse to select all your chosen titles, and then click on the drop-down button beside the Convert Books icon. Choose Bulk Convert to start the conversion process. Jobs currently being processed can be viewed via the spinning wheel at the bottom right-hand side of the app window.
Get Books
Calibre can search through all the websites that sell ebooks and will not only find the books you want, but also will show the different prices for each. Not only will prices appear from sellers in different currencies, Calibre will also show you the DRM status of each book.
Your Device
When you connect your e-reader to your computer, Calibre detects and displays it at the top right of your screen. Click on Device to see the contents of your e-reader's library. If you want to add books from your Calibre library to your device, just click on the item you want to move and drag and drop over the Device icon. If your book isn't in the right format, Calibre will ask if you want to Auto convert the following books before uploading to the device. Click Yes to begin conversion. The rotating spinner on the bottom right of the Calibre screen lets you see how far your book is into the conversion process.
Calibre's main screen shows which books are on the device and/or on Calibre. Books that are on both are indicated by a green tick. To add books from your device's library, just right click on the item and choose Add to Library.
comments powered by

Disqus
Visit Our Shop
Direct Download
Read full article as PDF: