Real-world Identity and Access Management (IAM) for Unix-based Systems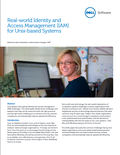 Unix systems face special identity and access management (IAM) challenges. This white paper details those challenges and explains how they can be overcome with the right practices and the right tools, enabling you to enhance security, achieve compliance, and dramatically improve operational efficiency.
Welcome to the Resource Library
Download this asset in three easy steps:
Enter your email address below.
If this is your first visit, we will ask you a few questions.
Proceed to the download page.