Issue #53 / Apr 2005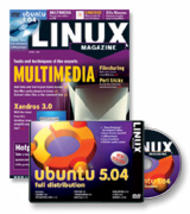 DVD: Ubuntu 5.04 'Hoary Hedgehog'
Dear Linux Magazine Reader, In the old days, system administrators learned their craft from older and wiser admins.......
FREE CHINESE TRUETYPE FONTS RELEASED CELEBRATE CROATIAN CREATIVE COMMONS LICENSES! CITY OF ANGELS, CITY OF OPEN SOUR......
SQUID PERL...
Practical Multimedia Techniques in Linux
You've been through the basics of playing sound and editing videos on your Linux system. Now take a step closer to the tools and techniques of the experts.
Generating Video Titles with MainActor
The MainActor video editing software may appear to have only a rudimentary title generator. But with some tricks and special effects, MainActor can give you some impressive opening credits.
DVD Authoring on Linux
Authoring video DVDs with Linux was a problem for a long time, but a few useful tools are closing the gap. And Q-DVD-Author gives you a handy front-end for controlling the process.
Converting and Processing Video Files with Transcode
Transcode is a handy tool for manipulating video files at the command line. With its modular architecture, the Transcode utility gives users much more than simple format conversion.
PHP 5 Power Programming Nessus Network Auditing Open Source Network Administration...
A Look at Xandros Desktop 3.0
Xandros, the successor to Corel OS, is one of many distributions that claim to make life easier for Linux newcomers. We took a look at the latest release, Xandros Desktop Version 3.0.
Hotplugging with Udev, HAL, and D-Bus
Hardware which just works is what every user wants. Current Linux distributions go a long way to fulfilling that dream. In this article, we will be investigating how the hotplug system works.
Visit Our Shop
Direct Download
Tag Cloud