Issue #68 / Jul 2006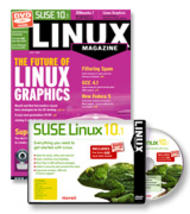 DVD: Suse Linux 10.1
Dear Linux Magazine Reader, Our cover story this month on the competing desktop technologies Xgl and AIGLX highligh......
MUCH IMPROVED 7.0 VERSION TOOLS, TOYS AND TIPS NO LONGER LARGEST?...
OpenGL and the Linux desktop
New technologies will change the way you view the objects on your Linux desktop.
An OpenGL-accelerated desktop with Xgl and Compiz
A member of Suse's X11 team delivers an insider's look at Xgl.
COVER STORY: AIGLX
AIGLX and the rise of the composite desktop
Red Hat's head of X development describes the evolution of AIGLX.
COVER STORY: X11R7
X.Org 6.9 / 7.0 – Next Generation X11
The first major X release for over 10 years, X11R7, has finally adopted a modular approach. X11R6.9, which uses the same codebase, is the last monolithic release for existing systems.
Internet Forensics Spring Into Linux Time Management for System Administrators ...
A quick look at the latest Fedora
Fedora opens the spring fashion season with a bold new release. We took a look at the latest collection.
Creating a SuperKaramba theme
If you can't find the SuperKaramba theme you're looking for, you can always build your own.
Interprocess communication with D-Bus and HAL
It's the end of the line for CORBA! Gnome now relies on the D-Bus messaging system, and KDE is in the process of migrating.
Visit Our Shop
Direct Download
Tag Cloud