Issue #77 / Apr 2007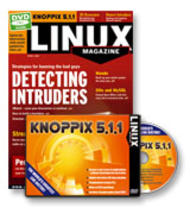 DVD: Knoppix 5.1.1
Dear Linux Magazine Reader, I attended a conference the other day that was quite different from an ordinary IT even......
GROUNDED PENGUIN FOCUS ON OSS IN HEALTH CARE LET'S MEET IN BERLIN! KERALA AND TAMIL NADU EMBRACE LINUX...
Code Removal New Features Rooting Out Spam At vger, Sort Of Maintainership ...
Nokia Snafu Requests ...
Looking for signs of a network attack
If you think your systems are too obscure for an attacker to worry about, think again. Today's intruders are happy for any victim.
Techniques for building a hidden backdoor
Backdoors give attackers unrestricted access to a zombie system. If you plan to stop the bad guys from settling in, you'll be interested in this analysis of the tools they might use for building a private entrance.
COVER STORY: Isof
Looking for intruders with lsof
Track down and expose intruders with the versatile admin tool lsof.
COVER STORY: iWatch
Monitoring directories with iWatch
Why wait for cron? iWatch monitors critical files and directories in realtime. This handy Perl script then notifies the user or runs a configurable command when change occurs.
Looking for security holes with BackTrack
The BackTrack live distribution lets you act like an intruder to test your network's security.
Mastering Regular Expressions, Third Edition See MIPS Run: Linux, Second Edition...
Visit Our Shop
Direct Download
Tag Cloud