Issue #83 / Oct 2007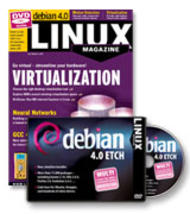 The beautiful city of San Francisco is much the same as last year – and the San Francisco LinuxWorld looks much the......
LOBBYING FOR INDIC MOZILLA NO TV ON DEMAND FOR LINUX A CARNIVAL OF FEMALE GEEKS OSS IN AHMEDABAD...
New Kernel Tester Guide Detecting ext4 Corruption Distributed Replicated Disk Support Rejected SDIO......
The iconic Debian Project has long been a Linux leader. Debian is built by a worldwide army of hundreds of developer......
Modem Woes Laptop Wireless ...
Virtualization and Emulation in Linux
You'll find a virtualization solution for every Linux environment – from the desktop to the enterprise server. In this month's cover story, we investigate some promising virtualization tools for Linux users.
Running server systems in virtual environments is a popular approach, but the technology offers benefits to desktop users. In this article, we investigate some virtual desktop alternatives.
Virtualization with IBM's System p servers
IBM has been in the virtualization business for decades. We'll show you around the award-winning virtualization environment for IBM System p series servers.
Legacy emulator
Bochs, the granddaddy of all emulators, is alive and kicking; thanks to regular vitamin jabs, the lively old pretender can even handle Windows XP.
Internet Explorer in Linux with IEs4Linux
IEs4Linux lets web developers who work in Linux install Internet Explorer in just a couple of minutes to test their websites without booting Windows.
Visit Our Shop
Direct Download
Tag Cloud