Issue #84 / Nov 2007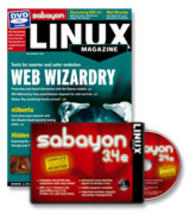 If you occasionally surf to our online home, you may have already noticed some big changes. We rolled out a new webs......
NEW FREE SOFTWARE COMPETENCE CENTER IN NORWAY LINUX.CONF.AU WITH 15 MINI-CONFERENCES LINUX FOR FEMALE IT STUDENTS WI......
New ebizzy Workload Simulator Braille Extensions Webcams and Touch screens Japanese Language Kernel......
Sabayon is a Gentoo-based Linux distribution that focuses on the user. The philosophy of the Sabayon project is base......
Logs I was wondering if you could do a series of articles on system logs, network logs, etc. What I am thinking a......
Techniques for more powerful websites
New tools for the web appear every day. In this issue, we round up some promising technologies, including Apache's Suexec module, the new WS-Addressing standard, the Helma application server, the Perlbal web server, and microformats.
Secure scripts with Apache Suexec
For many admins, the security of a web application is more important than its performance. If you have a web server with multiple users, the Suexec module can help you avoid problems associated with globally writable directories.
Asynchronous delivery with WS-Addressing
WS-Addressing is a standard that enables flexible communication between web services.
COVER STORY: Helma
Server-side JavaScript with the Helma application server
The powerful Helma application server brings new powers to the JavaScript language. We'll show you how to use Helma to build a simple RSS reader.
Scaling your website with the Perlbal web server
Let the nimble Perlbal web server keep your traffic in balance.
Visit Our Shop
Direct Download
Tag Cloud