Issue #90 / May 2008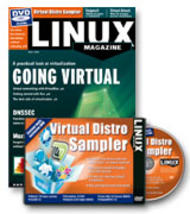 Customize your mail environment with the light and powerful Claws Mail
Sharpen your claws on this powerful and highly configurable email client.
Encrypting mail in Thunderbird
Combining the Enigmail add-on and the GnuPG encryption software gives Thunderbird users a powerful tool for encrypting and signing email.
Manage projects and time with Collabtive and Kimai
Whether you are developing software, writing articles, or doing something else, a decent project management and time tracking application can help make your daily computing less stressful and your business more efficient. In this article, we take a look at two such tools: Collabtive and Kimai.
SSH, SCP, and SFTP
SSH offers a secure approach to working on remote machines and encrypted data transfer. We'll show you other benefits of the secure shell.
A report from FOSDEM 2008
Now into its eighth year, the FOSDEM developer conference in Brussels, Belgium, demonstrates that it is very much alive and kicking, and even celebrating records.
SCALE 6x: Women in Open Source Conference
In February, Linux and open source enthusiasts met in southern California for SCALE 6x. The conference kicked off with a day of "Friday Special Events," including a Women in Open Source conference.
Hanging out in Hannover, Germany
At CeBIT 2008, the world's biggest computer fair, popular topics included Green IT, mini-PCs, and open source.
An up-to-date look at free software and its makers
Python inventor Guido van Rossum is known to have a good sense of humor and probably had a good laugh when he heard about the Guido van Robot project. If you are learning how to program, or would like to teach others, this software gives you a light-hearted introduction.
Visit Our Shop
Direct Download
Tag Cloud