Issue #95 / Oct 2008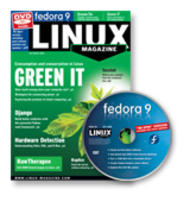 Django and the Django Software Foundation
We talk to one of the creators of the Django project about the formation of the Django Software Foundation, and we show you how to get started with this user-friendly web framework.
Programming with the Gambas Basic IDE
Gambas is a fast and easy tool for writing graphical desktop applications in Basic.
Dynamic device management with Udev, HAL, and D-Bus
Udev, HAL, and D-Bus provide automated hardware configuration, even if you plug in on the fly. We'll help you easily access new devices.
Applying updates to an active kernel with Ksplice
Uptime is often just as important as updates. But doesn't a kernel patch require a reboot? Ksplice lets you have your cake and eat it too.
Klaus Knopper is the creator of Knoppix and co-founder of the LinuxTag expo. He currently works as a teacher, programmer, and consultant. If you have a configuration problem, or if you just want to learn more about how Linux works, send your questions to: klaus@linux-magazine.com
The sys admin's daily grind: Single-packet authentication
Conventional, woodpecker-style port knocking is open to sniffing and brute force knocking attacks. Sending an encrypted packet with an access request to the server is safer and more modern. Learn more about Firewall Knock Operator, a.k.a. Fwknop.
The soft chewy center of the Internet
Are your systems secure against DNS attacks? We'll show you why they matter and help you determine whether you are vulnerable.
Monitoring with the Sysstat tool collection
The Sysstat tools, featuring sar, iostat, mpstat, and pidstat, acquire system parameters and calculate statistics.
Visit Our Shop
Direct Download
Tag Cloud