Issue #115 / Jun 2010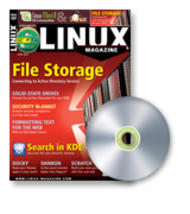 DVD: 2-SIDED DVD: LINUX MINT 8 & CALCULATE LINUX
Perhaps Mitch Albom could write a book about it
Waiting until a certain day of the week to patch your software is one way to do it, but not on Linux.
Dear Linux Magazine Reader,The news this month was all about Apple's new iPad device. I must admit that Apple got me......
Double-Sided DVD!
This month's DVD comes with two exciting Linux distributions on a double-sided DVD. The ever-popular Linux Mint is an......
The easiest desktop Linux ever!...
Professional users are always searching for an edge. Whether you work with Linux as a webmaster, programmer, system administrator, or security consultant, you know the best solution depends on finding the right tool for the job. We thought you might be interested in the ­ following new products and updates.
Studies in Linux data storage
This month we look at filesystems for SSDs and show you how to get connected with a Windows Active Directory file server.
Scanning, fixing, and reporting security issues with Security Blanket
Trusted's Security Blanket lets you analyze security compliance in a few easy steps.
What's new in KDE SC 4.4
Version 4.4 sees the KDe Software Compilation reach a status on par with the user friendliness and stability of good old KDe 3.5. On top of this, many features are new.
Making sure your logs work
Might as well do it properly – rsyslog.
Using OpenOffice.org Basic macros to publish documents on the web
Coding your own document formatting solution might sound like a daunting proposition, but it requires only a couple of relatively simple macros.
Visit Our Shop
Direct Download
Tag Cloud