Issue #123 / Feb 2011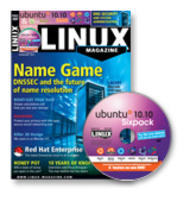 Double-Sided DVD
Linux Mint 10 "Julia" - GNOME edition Ubuntu Live Ubuntu Alternate Kubuntu Live Lubuntu Kubuntu Li......
Double-sided DVD
Our Ubuntu sixpack offers Live and installed versions of several of the top 'buntu variants.
Letter from the Editor
The Internet was invented for effortless sharing of information. Creators and purveyors of information, however, do not always intend for it to be effortlessly and freely shared. Ever since the Internet emerged from its academic/military roots to become a massive presence in everyday life, a showdown has been in the making.
Table of Contents
Sys Admin
Ten Years On
Ten is a fair age for a Linux distribution that doesn't have massive staff resources to back it up. Klaus Knopper looks back with a sense of satisfaction after just having compiled version 6.4. As a tribute to the community, this version includes only free software.
Mandriva
I'm not sure who I should be contacting, but not so long ago I had problems with Windows 7, so I installed Mandriva Linux on my laptop instead, and it is the best OS I've used – even better than XP, which I love.
OpenNMS: Monitoring large systems and networks
If you need to monitor very large networks, you need powerful software. OpenNMS offers serious monitoring capabilities in a truly open source package.
The sys admin's daily grind: Cluster SSH
Charly doesn't relish the idea of searching through the logfiles of a dozen proxy servers when page requests fail. Now that he has deployed Cluster SSH, he can pull the strings on many machines at the same time.
User authentication for the masses
Outsourcing authentication services gives you access to more services – at a price. Kurt examines the pros and cons of distributed authentication.
Your photos, your way: Hosting photos with Piwigo
Control your content by hosting your own photo gallery and publishing photos on your own server with Piwigo.
Visit Our Shop
Direct Download
Tag Cloud