Issue #129 / Aug 2011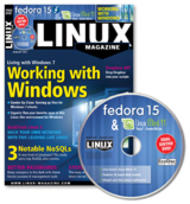 DVD: Fedora 15 & Linux Mint 11 Live
Issue #129
...
Cloud Age
I wonder, sometimes, where the next 10 years of high tech is actually leading us......
This month: Living with Windows 7
...
Fresh and minty!
This month's DVD offers the choice of two exciting new distros: Fedora 15 and the Linux Mint 11 "Katya" Gnome edition. ...
Easy library administration with Koha
Information technology plays a key role in modern library environments. We check out Koha, an open source integrated system that can help manage a library's daily operations.
Doing more with Dropbox
The proprietary Dropbox service has become a popular way to exchange large files. The Dropbox web API also supports scripts, like the one in this article that picks up files from behind a firewall.
Submit questions to: klaus@linux-magazine.com
Hello, Klaus. I have been using your OS version 6.4 as supplied on the DVD with the January 2011 Linux Magazine. I li......
The sys admin's daily grind: dig
Many administrators rely on Linux tools whose fate is already sealed, but external forces can help people let go of old habits.
Logging and processing logs from Windows 7
Windows 7 is pretty good at logging, but what do you do with all those log files? We look at some monitoring tools that can help you get the most out your logging data.
Manage RSS feeds with BilboPlanet
On the web, a planet is a tool for collecting and displaying blog posts from members of an Internet community. We show how to do this using BilboPlanet.
Visit Our Shop
Direct Download
Tag Cloud