Issue #130 / Sep 2011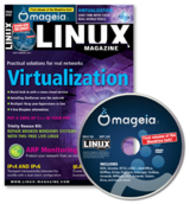 DVD: Mageia 1 - first release of the Mandriva fork
Issue #130
...
Leroy Robert "Satchel" Paige, the iconic athlete-philosopher who was probably the greatest baseball pitcher of all time, used to pass around this insightful list of "Rules for Staying Young":
With this month's Linux Magazine DVD, you can test Mageia 1, the first release of a Mandriva fork begun in 2010. With a choice of desktops, such as KDE SC 4.6.3, Gnome 2.32, Xfce 4.8.1, and LXDE, you can tailor Mageia's look and functionality to suit your needs.
After what seems like years, PuTTY 0.61 finally sees the light of day on July 12. Did I say "seems" like y......
Letters to the editor
Darktable I want to begin this email by saying I really like reading Linux Magazine. Secondly, I would like to add s......
Managing hypervisors with the Archipel VM orchestration tool
The innovative Archipel cross-hypervisor management tool uses the Jabber protocol to chat with servers running Xen, KVM, OpenVZ, and VMware.
Rescuing data on Linux and Windows machines Rescue
Trinity Rescue Kit is driven by the practical requirements of the admin's daily work, integrating a full set of tools for maintaining and rescuing Linux and Windows PCs.
The sys admin's daily grind: LUG Camp Tschierv
He nearly missed this year's LUG Camp, but what was columnist Charly supposed to do instead – celebrate Father's Day?
Fleet and flexible cgroups and Linux Containers
The big virtualization tools like KVM and Xen can't compete on a small scale with resource-spare cgroups and Linux Containers.
Care and feeding of disk space on Linux
You wouldn't believe how much of the disk space on your system is wasted, filled with duplicate files, or cruft you don't need.
Visit Our Shop
Direct Download
Tag Cloud