Issue #140 / Jul 2012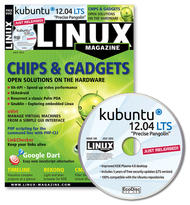 DVD: Kubuntu 12.04 LTS "Precise Pangolin"
Finding dead links with LinkChecker
LinkChecker helps you keep your site free of broken links.
The sys admin's daily grind – Converting to Btrfs
Btrfs might not be complete, but conceptually, it combines so many useful filesystem functions that Charly couldn't wait to play around with it.
Don't forget your hardware
Now that your networks are secure and you've convinced your users to secure their passwords and software, it's time to turn your attention to your hardware to keep it from being attacked.
PHP for the command line
PHP is not just for websites. Command-line PHP scripting has been around for more than 10 years, which makes the language and its comprehensive libraries eminently suitable for the toolbox of any administrator who manages web servers.
Open source data center management with Red Hat's oVirt
The days when administrators were forced to manage virtual machines at the console are gone. Competitors of VMware and Citrix now offer equally sophisticated GUIs. One promising alternative is Red Hat's oVirt – a free Java interface for Libvirt.
Building virtual filesystems with cmdfs
Cmdfs builds a filtered virtual filesystem based on a source directory tree. You can even integrate other programs to convert data on the fly.
Klaus Knopper answers your Linux questions
Klaus Knopper is the creator of Knoppix and co-founder of LinuxTag expo. He currently works as a teacher, programmer, and consultant. If you have a configuration problem, or if you just want to learn more about how Linux works, send your questions to: klaus@linux-magazine.com
Headache-free continuous integration
A new service on travis-ci.org picks up GitHub projects, runs new code through test suites, and notifies the owners if the build fails. Its API enables Perl scripts to gather historical build data, including who-broke-the-build tabulations.
Google's JavaScript alternative, Dart
The Dart programming language is Google's modern alternative to JavaScript. It will mainly run in browsers but can also be used at the command line and on servers as a replacement for PHP.
Vim Outliner orders your thoughts
If you need to outline an essay, make a list, or write something highly structured like a CSS file for a website, then look no further than the command line, especially if you're already comfortable with the Vim text editor.
Visit Our Shop
Direct Download
Tag Cloud