Issue #148 / Mar 2013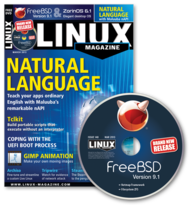 DVD: FreeBSD 9.1 & Zorin OS 6.1
Rolling your own Arch-based Linux Live image with Archiso
Build a custom Live boot image with Arch Linux and Archiso.
Klaus Knopper answers your Linux questions
Klaus Knopper is the creator of Knoppix and co-founder of LinuxTag expo. He currently works as a teacher, programmer, and consultant. If you have a configuration problem, or if you just want to learn more about how Linux works, send your questions to: klaus@linux-magazine.com
Network grep
Ngrep is a pattern-matching tool that sorts the wheat from the chaff and doubles as a lightweight packet sniffer.
The sys admin's daily grind – ifdata Info
Script-friendly ifdata from the Moreutils package delivers absolutely precise network interface status information, with no need to extract individual values.
PROGRAMMING: Tclkit
Cross-platform software development with Tclkit
Although performance differences between scripting languages and classic compiled languages are hardly significant, one disadvantage of scripting languages was that you always had to install an interpreter first. Tclkit lifts this burden.
A convenient approach to finding the right e-book
Google Drive lacks a mechanism for tagging files, so we look at two APIs that scripts can use to store metadata on Evernote, allowing searches of e-books by category or property.
Security with data structures
What do all programs have in common? They store data at some point, usually in arrays – everything from commandline options to the input and output. But how is data actually stored by the program? Kurt explains.
Detecting attacks with the Tripwire IDS
The simple but effective Tripwire HIDS provides its service quietly and discreetly, preventing attackers from infecting computers with trojans, backdoors, or modified files by identifying anomalies unnoticed by the user.
Put an old netbook to good use
Death, taxes, and hardware obsolescence are all inevitable, but at least you can mitigate the latter by squeezing more productive use from older desktop machines, notebooks, and netbooks.
Tested – Valve's Steam for Linux beta
Steam for Linux finally brings current games to the Linux desktop. Valve has put a lot of energy into the project, but the first steps on the new terrain still look a little shaky.
Visit Our Shop
Direct Download
Tag Cloud