LibreOffice and Apache OpenOffice at the command line
By the Script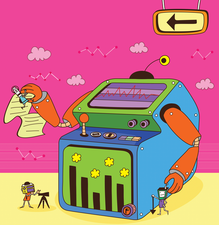 Your favorite office suites have a surprisingly active life at the command line, and various supplementary scripts can help you perform some functions more easily there than on the desktop.
LibreOffice and Apache OpenOffice are primarily desktop applications. However, you might not know that the way these applications open is determined by command-line options. You can also print and convert files from the command line, in some cases more easily than from the desktop. Additionally, of the various supplementary scripts that have been written for their predecessor OpenOffice.org, at least two sets of utilities continue to be useful for manipulating their files from the command line.
You may need to search for these utilities, because they are not packaged for all distributions. Still, whether you are a home user or a developer who wants to summon LibreOffice as part of a more elaborate script, these tools can be worth hunting down. Like many command-line tools, they allow you to perform functions more easily than on the desktop or do things that are not even options in the editing window.
LibreOffice and OpenOffice Command Options
Both LibreOffice and Apache OpenOffice start with the command soffice, which is short for StarOffice, the name of the application before Sun Microsystems released the code in July 2000. Some of the options listed by the --help option are obsolete, such as --quickstart and --nofirststartwizard, which refer to features no longer in recent versions. Others, like --display, are useful only on Linux, but many of the others are useful on any platform.
[...]
Use Express-Checkout link below to read the full article (PDF).
comments powered by

Disqus
Visit Our Shop
Direct Download
Read full article as PDF:
Tag Cloud