Chapeau Linux multimedia and gaming platform
Installing Software
In addition to the preinstalled selections, Chapeau Linux offers a variety of other programs for installation in its repositories. The most convenient approach is via the Software entry in the application bar: It takes you to a basic window that offers much simpler operations than, for example, Synaptic, YaST, or the Mandriva Control Center.
In the main area of the window, you can choose between the three options Featured, Picks, and Categories. Featured explains the basic functions of individual applications in a few sentences. Picks contains several programs, some of which are already installed. A click on the program icon also explains the application in question in a few words and provides a link to the website of the corresponding project. The 12 buttons under Categories represent different application groups. Here, you can search for and install applications by topic (Figure 3).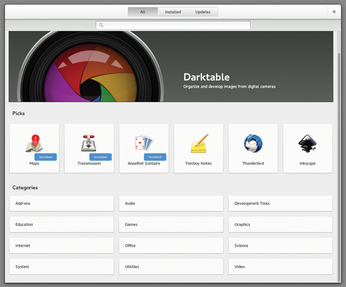 The categories in turn are organized into several subgroups, so you quickly find the right program for your needs, without having to browse endless lists. Again, in each subgroup is a Featured category that lists several programs; software that is already installed is marked with a blue "Installed" box. This clear representation is particularly attractive to newcomers, encouraging them to browse the software collection and try less well known programs (Figure 4).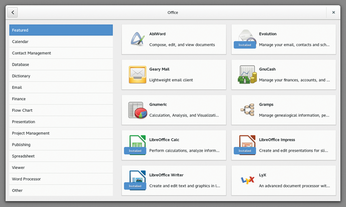 To install a new program, you simply press its button in the list and select the blue Install on the next screen. The routine then downloads the appropriate software off the web and installs it on your hard drive. Removing installed applications is just as easy: Simply select a program and click on the red Remove button in the respective subgroup.
Conclusions
Chapeau Linux impresses with its complete software selection. The distribution is especially suitable for beginners interested in handling demanding multimedia tasks without the cumbersome installation of additional proprietary software and codecs, as well as for gamers moving from other platforms.
comments powered by

Disqus
Visit Our Shop
Direct Download
Read full article as PDF:
News
Both projects help organizations build their own containerized systems.

Mark Shuttleworth has resumed the position of CEO of Canonical.

Microsoft's open source code hosting platform CodePlex will come to an end after a more than 10-year stint.

Comes with Gnome 3.24

The bug was introduced back in 2009 and has been lurking around all this time.

The new release deprecates the sshd_config UsePrivilegeSeparation option.

Lives on as a community project

Five new systems join Dell XPS 13 Developer Edition that come with Ubuntu pre-installed.

The Skype Linux client now has almost the same capabilities that it enjoys on other platforms.

At CeBIT 2017, OpenStack Day will offer a wide range of lectures and discussions.
Tag Cloud