Sparkling gems and new releases from the world of Free and Open Source Software
TripleA
TripleA, not to be confused with the developer Triple, Eh? of Lumo fame, is a strategy board game similar in style to Axis & Allies and Risk, only played with a mouse on your desktop. You take charge of an entire country in the middle of a World War II-like scenario, although this can be changed and modified. You have to research, buy, move, and fight your way to victory, expanding your influence, making allies, and destroying your enemies. Gameplay takes place on a political map of the globe where you buy your technology, move units, and make combat moves against adjacent territories on the map. You can play against the computer, play online, match yourself against other players in a lobby, and even play via email.
This game has been in development since 2001. As a result, it is now a very mature and stable application with a committed community of players. However, you'll need to brush up on its rules if you're going to take on any of these players. Fortunately, TripleA's Rule Book is a good example of what happens when a game reaches maturity; documentation like this is usually left until some mythical point in the future. However, the Rule Book is a well-designed and well-written PDF that steps through the game from setup to strategy. It even uses annotated illustrations to explain ideas, stepping through an example conflict and the various moves, deployments, and technology phases you can go through to win. The final section is a tactical handbook, and it is definitely worth a look – if you're brave enough to play online – if for no other reason than it will give you an idea of how serious players approach the game.
Project Website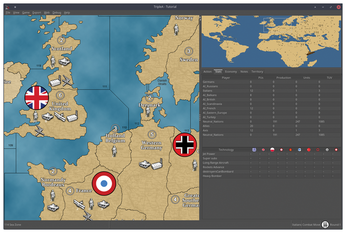 comments powered by

Disqus
Visit Our Shop
Direct Download
Read full article as PDF:
News
Anyone looking to finally get their hands on an early release of the PinePhone can do so as of November 15.

Microsoft is bringing it's new Chromium-based Edge browser to Linux.

OIN has deployed its legal team to find prior art.

The latest version of Fedora comes with new packages and libraries.

openSUSE enables developers to build their own WSL distributions.

A vulnerability in the sudo package gives sudo users more powers than they deserve.

The Art of PostgreSQL by Dimitri Fontaine is now available.

New distro will provide an upstream test bed for RHEL.

The feature will let developers restrict root access to the kernel.