Extension Watch: Chrome Remote Desktop for Google Chrome and Chromium

Productivity Sauce
Jun 08, 2012 GMT
A browser nowadays is more than a tool for accessing the web. With the right extensions, you can put it to many other nifty uses. Case in point: the Chrome Remote Desktop extension which turns Google Chrome and Chromium into an instant, secure, and hassle-free solution for accessing and controlling remote machines. The extension works on Linux, Windows, and Mac OS X, so you can, for example, access your Linux desktop from a Windows box.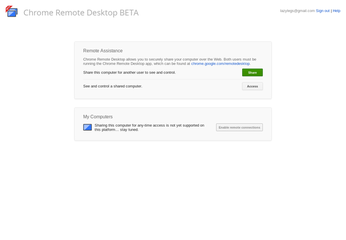 Using the Chrome Remote Desktop extension to access remote machines is ridiculously easy. First off, make sure that the extension is installed on the machine you want to access (remote host) and the client computer. Open the extension on the remote host, press the Share button, and note the generated code. Launch then the extension on the client machine, press the Access button, enter the generated access code, and hit Connect. You should then see the remote desktop in all its glory. The only real limitation of this solution is the fact that it requires the Google Chrome or Chromium running on both ends. But if you already have the browser installed on both machines, then using Chrome Remote Desktop is a no-brainer.
Comments
Chrome remote host for linux

Personally I don't mind not having chrome remote desktop, I just went out and bought a computer for 95 bucks and it works just find. thanks google for all your help and support in other products becuase everything I do I like on my computer, and it doesn't really matter if linux looses out on all the fun,, becuase it works just fine like it is I'd hate to see everything go backwords! lol

Registering computers doesnt work in Linux!

This is pretty nice. But the functionality to register your computers and access them from anywhere, which seems a lot more useful because there is no need to generate an access code each time, is not available for Linux. Only for Windows and Mac. So much for a company that runs on Linux!
comments powered by

Disqus
Issue 198/2017
Buy this issue as a PDF
Digital Issue: Price $9.99

(incl. VAT)
News
Both projects help organizations build their own containerized systems.

Mark Shuttleworth has resumed the position of CEO of Canonical.

Microsoft's open source code hosting platform CodePlex will come to an end after a more than 10-year stint.

Comes with Gnome 3.24

The bug was introduced back in 2009 and has been lurking around all this time.

The new release deprecates the sshd_config UsePrivilegeSeparation option.

Lives on as a community project

Five new systems join Dell XPS 13 Developer Edition that come with Ubuntu pre-installed.

The Skype Linux client now has almost the same capabilities that it enjoys on other platforms.

At CeBIT 2017, OpenStack Day will offer a wide range of lectures and discussions.
Tag Cloud