Extension Watch: WiRWiB

Productivity Sauce
Feb 27, 2009 GMT
WordNet is probably the most valuable reference for professional writers and users striving to improve their writing skills. The official WordNet package comes with a simple graphical front-end, and there is also a no-frills Web-based version of the reference. But if you do most of your writing in OpenOffice.org Writer, switching back and forth between the word processor and the WordNet application or browser can quickly become an annoyance. The WiRWiB extension -- which stands for Write It Right, Write It Better -- provides an elegant solution to the problem. WiRWiB uses a separate window to display WordNet data for the current word, including its definition, usage, and synonyms. More importantly, the extension does so in real time, constantly updating information as you type. In addition to that, WiRWiB groups the word info into sections and uses colors to make word articles more readable. WiRWiB supports not only English, but also Hindi.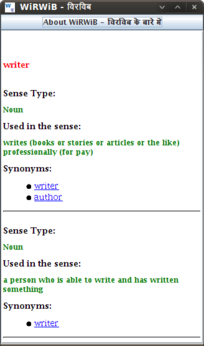 Like any OpenOffice.org extension, WiRWiB can be installed using the Extension Manager (Tools -> Extension Manager). To enable WiRWiB, choose Tools -> Options -> Language Settings -> Writing Aids and make sure the WiRWiB entry in the Available language module section is ticked. Press then Edit and use the Move up button to move WiRWiB to the top of the Spell checking section. Press Close -> OK, and WiRWiB is ready to go. To activate WiRWiB, press the Show/Hide WiRWiB toolbar button. Start typing and you should see the constantly updated information in the WiRWiB window.
comments powered by

Disqus

Issue 199/2017
Buy this issue as a PDF
Digital Issue: Price $9.99

(incl. VAT)
News
Both projects help organizations build their own containerized systems.

Mark Shuttleworth has resumed the position of CEO of Canonical.

Microsoft's open source code hosting platform CodePlex will come to an end after a more than 10-year stint.

Comes with Gnome 3.24

The bug was introduced back in 2009 and has been lurking around all this time.

The new release deprecates the sshd_config UsePrivilegeSeparation option.

Lives on as a community project

Five new systems join Dell XPS 13 Developer Edition that come with Ubuntu pre-installed.

The Skype Linux client now has almost the same capabilities that it enjoys on other platforms.

At CeBIT 2017, OpenStack Day will offer a wide range of lectures and discussions.
Tag Cloud