FilePizza: File Delivery Simplified

Productivity Sauce
May 20, 2015 GMT
File transfer tools and services have been popping up recently like mushrooms after the rain. And FilePizza is the most recent addition to the growing list of services that make it possible to share and transfer files using a regular browser. Simplicity is undoubtedly the main attraction of FilePizza. Open the main page in your browser, and drop the desired file onto the upload area (or use the Select a file button to pick the file you want). This will automatically generate a unique URL like http://file.pizza/fungi-peppers-salmon-snowpeas which you can share with others. This link will work as long as the web page is opened.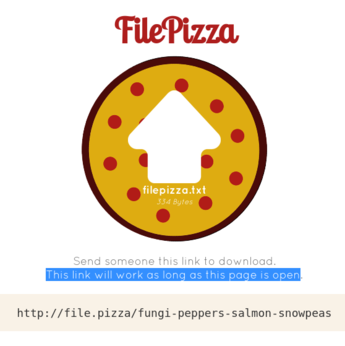 The fact that the service doesn't require you to upload files to third-party services and the shared file becomes unavailable as soon as you close the web page means that FilePizza is suitable for instant and private file sharing. Better still, FilePizza's source code is available in the project's GitHub repository, so you can easily deploy the service on your own server.
comments powered by

Disqus

Issue 37: Discover LibreOffice – 2019 Edition/Special Editions
Buy this issue as a PDF
Digital Issue: Price $15.99

(incl. VAT)
News
Anyone looking to finally get their hands on an early release of the PinePhone can do so as of November 15.

Microsoft is bringing it's new Chromium-based Edge browser to Linux.

OIN has deployed its legal team to find prior art.

The latest version of Fedora comes with new packages and libraries.

openSUSE enables developers to build their own WSL distributions.

A vulnerability in the sudo package gives sudo users more powers than they deserve.

The Art of PostgreSQL by Dimitri Fontaine is now available.

New distro will provide an upstream test bed for RHEL.

The feature will let developers restrict root access to the kernel.