Read and Manage RSS Feeds with NewsBlur

Productivity Sauce
Feb 28, 2013 GMT
Google Reader is the go-to RSS aggregator for many users who prefer to get their regular RSS fix from the convenience of the browser. But despite being an excellent all-around tool for managing and reading RSS feeds, Google Reader is not what it used to be. The application hasn't received any major updates in a while, and it begins to feel dated. Fortunately, Google Reader is not the only fish in the sea, and if you are ready to try something new and different, you might want to take a closer look at NewsBlur. This open source RSS aggregator offers a fresh take on managing multiple RSS feeds and features some clever tools for sifting through hundreds and even thousands of RSS articles.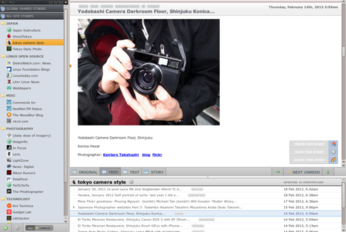 NewsBlur allows you to import your existing RSS subscriptions in the OPML format, so you can easily transfer all your favorite feeds from Google Reader, or any other RSS aggregator. The application supports several views, including Feed (the default mode which displays articles as a plain RSS feed), Original (shows the entire original site), and Story (shows each individual blog post from the original site, one story at a time). NewsBlur also features training filters which let you hide items you don't like and highlight articles that you find interesting. Training NewsBlur can help you to reduce the noise. Using the sharing functionality, you can post any RSS article on your own blurblog which NewsBlur automatically sets up for you when you create an account with the service. Other users can subscribe to your blurblog and you can follow other NewsBlur users, too. There is also a bookmarklet which can be used to subscribe to the RSS feed of the currently viewed website as well as push stories to your blurblog.
If you prefer to check RSS feeds from a mobile device, you'll be pleased to learn that the NewsBlur app is available for both the Android and iOS platforms. NewsBlur is free, but you can upgrade to the premium account for as little as 12USD per year, which is a great way to support this excellent open source project. If you feel adventurous, you can grab the source code from the project's GitHub repository and deploy NewsBlur on your own server. But be warned: installing NewsBlur is far from trivial.
Comments
comments powered by

Disqus

Issue 199/2017
Buy this issue as a PDF
Digital Issue: Price $9.99

(incl. VAT)
News
Both projects help organizations build their own containerized systems.

Mark Shuttleworth has resumed the position of CEO of Canonical.

Microsoft's open source code hosting platform CodePlex will come to an end after a more than 10-year stint.

Comes with Gnome 3.24

The bug was introduced back in 2009 and has been lurking around all this time.

The new release deprecates the sshd_config UsePrivilegeSeparation option.

Lives on as a community project

Five new systems join Dell XPS 13 Developer Edition that come with Ubuntu pre-installed.

The Skype Linux client now has almost the same capabilities that it enjoys on other platforms.

At CeBIT 2017, OpenStack Day will offer a wide range of lectures and discussions.
Tag Cloud