Use Chromium and Chrome Browsers as Timers for the Pomodoro Technique

Productivity Sauce
Oct 28, 2015 GMT
To practice the Pomodoro technique you need one thing: a timer. And there are plenty of timer tools and applets out there designed specifically for the Pomodoro technique. But you don't need to install a dedicated timer software to practice the Pomodoro technique. If you happen to use Google Chrome or Chromium as your preferred browser, you can use the set timer for search query to activate a timer in a separate window or tab. Just run the set timer for 30 minutes search query to start a timer.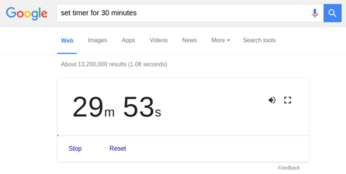 Of course, this little feature is not limited to the Pomodoro technique, and it can come in handy in many situations: from brewing a perfect cup of tea to doing exercises.
comments powered by

Disqus

Issue 37: Discover LibreOffice – 2019 Edition/Special Editions
Buy this issue as a PDF
Digital Issue: Price $15.99

(incl. VAT)
News
Anyone looking to finally get their hands on an early release of the PinePhone can do so as of November 15.

Microsoft is bringing it's new Chromium-based Edge browser to Linux.

OIN has deployed its legal team to find prior art.

The latest version of Fedora comes with new packages and libraries.

openSUSE enables developers to build their own WSL distributions.

A vulnerability in the sudo package gives sudo users more powers than they deserve.

The Art of PostgreSQL by Dimitri Fontaine is now available.

New distro will provide an upstream test bed for RHEL.

The feature will let developers restrict root access to the kernel.