Using Bitbucket and GitHub for Note-Taking as Writing Tools

Productivity Sauce
Apr 29, 2014 GMT
Both Bitbucket and GitHub feature built-in editors which can be used for creating and editing files. This feature can come in handy when you need to quickly jot down a note, draft an article, or save a text snippet. GitHub's editor is particularly suitable for writing and note-taking, as it supports soft wrap and the zen mode which provides a distraction-free writing environment. Bitbucket's editor doesn't offer any of these nice touches, but the service lets you maintain private repositories free of charge. So Bitbucket makes a better choice if you want to keep your scribbles private without spending money.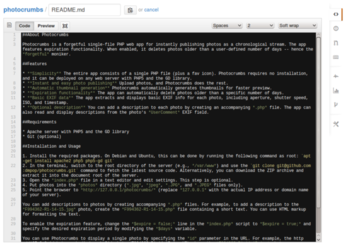 Using GitHub's and Bitbucket's built-in editors for note-taking is rather straightforward. To keep things tidy, you might want to set up a separate repository for your scribbles. Once you've done that, you can create a new text file and open it for editing. To do this on GitHub, click on the dedicated button which opens an empty file in the editor (see the Creating files on GitHub article for further info). You can then edit the file to your heart's content. You can edit existing files, too. In the repository, click on the file you want to edit, then press theEdit button. Working with files on Bitbucket is equally easy. Press the New file button to create a new file and open it in the editor. To edit an existing file, click on it, then press the Edit button.
comments powered by

Disqus

Issue 37: Discover LibreOffice – 2019 Edition/Special Editions
Buy this issue as a PDF
Digital Issue: Price $15.99

(incl. VAT)
News
Anyone looking to finally get their hands on an early release of the PinePhone can do so as of November 15.

Microsoft is bringing it's new Chromium-based Edge browser to Linux.

OIN has deployed its legal team to find prior art.

The latest version of Fedora comes with new packages and libraries.

openSUSE enables developers to build their own WSL distributions.

A vulnerability in the sudo package gives sudo users more powers than they deserve.

The Art of PostgreSQL by Dimitri Fontaine is now available.

New distro will provide an upstream test bed for RHEL.

The feature will let developers restrict root access to the kernel.