SC10: Take advantage of Education, Diversity, and Volunteer Programs

ROSE Blog: Rikki's Open Source Exchange
Jun 03, 2010 GMT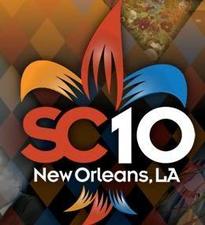 Thought you couldn't afford SuperComputing 2010? Rethink it! In addition to job fairs and networking opportunities, SC10 announced that it will have education, diversity, and volunteer programs at the November 13-19 event in New Orleans. The announcement says, "In keeping with the theme for this year's conference, 'The Future of Discovery,' SC10 is now offering opportunities to students, faculty, and emerging leaders from groups traditionally underrepresented in computing to discover the international conference for high-performance computing, networking, storage and analysis."
Read more from the announcement to find out how you can take advantage of free conference registration, housing, meals and help with travel expenses:
The following programs are now accepting applications:
The Broader Engagement Program offers students, faculty and professionals from groups that have traditionally been underrepresented in high-performance computing (HPC) an introduction to SC through networking and technical sessions. Sessions immediately preceding the conference provide an introduction to and professional development in HPC and computational science. Community building activities include the mentor/protégé program, which matches Broader Engagement and Student Volunteer protégés with self-identified mentors attending SC. Applications for participation grants in Broader Engagement are due Aug. 16. Details are available at: http://sc10.supercomputing.org/?pg=broadeng.html. For more information, email: be@info.supercomputing.org.

The Education Program introduces HPC and computational tools, resources and methods to undergraduate faculty and pre-college educators. During a four-day intensive workshop, educators are shown ways they can integrate HPC and computational techniques into their classrooms and research programs. Participants are immersed in HPC, networking, storage and analysis. Special events scheduled for SC10 include a teacher's day, and support for high school field trips. Limited travel support is available; those not receiving travel support may participate by paying a separate registration fee. Travel support applications are due July 31; details are available at: http://sc10.supercomputing.org/?pg=edprog.html. For more information, email: education@info.supercomputing.org.

The Student Volunteer Program offers undergraduate and graduate students with an interest in HPC the opportunity to help with the management and operation of the conference. In exchange, student volunteers receive free conference registration, housing (for out-of-town volunteers), and most meals. Limited support for such travel expenses as airfare is available for students from groups traditionally underrepresented in HPC, such as Native Americans, African-Americans, Hispanics, Native Hawaiians, Alaskan Natives, Pacific Islanders, women, and the physically challenged. Applications are due July 31. Details are available at: http://sc10.supercomputing.org/?pg=studvol.html. For more information, email: student-vols@info.supercomputing.org.

Job Fair: As a part of the Broader Engagement Program, the SC10 Student Job Fair will be held from 10:30 a.m. to 1:30 p.m. Wednesday, Nov. 17. Last year, more than 100 students participated in the SC09 Student Job fair in which more than 30 representatives from government and industry, research labs, academic institutions, recruiting agencies and private industry met with students to discuss research opportunities, temporary and permanent employment opportunities, co-ops and internships. SC10 welcomes a broad spectrum of student attendees, including the SC Communities: SC Education Program, the SC Broader Engagement Program, and SC Student Volunteers Program.
Participating organizations and institutions will have access to students in computer science, information systems, scientific computing and high performance computing related fields. The registration fee for exhibitors is US$50. Contributing donors to SC Communities are entitled to complimentary registration in the Job Fair; for information about contributing to SC Communities, see http://sc10.supercomputing.org/images/CommunitiesExhibitors.pdf.
Organizations planning to participate in the SC10 Student Job Fair are asked to confirm and supply the name of the organization's representative(s) by Aug. 31. See http://sc10.supercomputing.org/?pg=jobfair.html. For more information student-job-fair@info.supercomputing.org or 408-927-1403.

SC10 has this year established additional funds specifically to support individuals from Minority Serving Institutions (MSI) in the southeast region of the U.S. who would like to participate in the Broader Engagement and Education programs. This is part of an effort to increase overall participation in SC10 and SC Communities. When applying for support for the Broader Engagement and Education programs, as indicated above, applicants need to identify themselves within the application as from an MSI in the southeast region. Consult the SC10 Website http://sc10.supercomputing.org/ for updates.

Follow SC10 on Facebook: http://bit.ly/dvE0IA
Follow SC10 on Twitter: http://twitter.com/SuperComputing
comments powered by

Disqus

Issue 37: Discover LibreOffice – 2019 Edition/Special Editions
Buy this issue as a PDF
Digital Issue: Price $15.99

(incl. VAT)
News
Anyone looking to finally get their hands on an early release of the PinePhone can do so as of November 15.

Microsoft is bringing it's new Chromium-based Edge browser to Linux.

OIN has deployed its legal team to find prior art.

The latest version of Fedora comes with new packages and libraries.

openSUSE enables developers to build their own WSL distributions.

A vulnerability in the sudo package gives sudo users more powers than they deserve.

The Art of PostgreSQL by Dimitri Fontaine is now available.

New distro will provide an upstream test bed for RHEL.

The feature will let developers restrict root access to the kernel.