CeBIT 2009 Previews, Open Source a Highlight
Jan 14, 2009
Linux and free software will get some prominence at the upcoming CeBIT trade show in Hannover, Germany, March 3-8. A star-studded preview event will open the show, and a press conference has already taken place in Munich.
March 2, a day before the CeBIT 2009 show opens, will be a celebrity event with German chancellor Andrea Merkel attending together with guest star Arnold Schwarzenegger. An initial press conference in Munich has already provided some first insights into the show. One featured theme is Internet and Mobile Solutions, for which CeBIT has reserved an area in Hall 6 under the coined rubric "Webciety." At the press conference, show organizer Sven Prüser mentioned how the world is becoming more Web-oriented, as evidenced by the recent U.S. elections.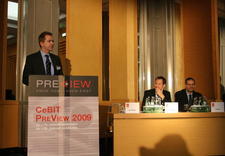 CeBIT will dedicate an entire hall to security themes, with other venues focused on e-learning, RF identification and telehealth. For example, a "Future Care" display will demonstrate what doctors can anticipate in the digital age. Moving from hall to hall should prove not to be without its hazards: an "Autos in Dialogue" exhibit will have cars crossing intersections. What used to be called "green" in past years will now be under the "Energy-efficient IT" motto, at least according to Prüser, although Bitkom's Mario Tobias would rather have named it "Green IT World." Last year it was merely the "Green IT Village."
Close to the Webciety area, Open Source will get a forum of its own as a prominent theme at the show. Linux Magazine will be there as well, with its publisher Linux New Media AG having its own booth in Hall 6. The show will include programs with talks, keynotes and presentations about important Open Source projects. Keynote speakers will include Amanda McPherson (Linux Foundation), Simon Phipps (Sun Microsystems) and Georg Greve (Free Software Foundation Europe). Themes will include IT centers, Web, security, mobility, multimedia, distros and the desktop.
Linux New Media will also present its fifth annual awards at CeBIT. The awards will recognize individuals, projects, enterprises and organizations for their particularly innovative and engaging achievements in six categories.
Partners in the CeBIT Open Source initiative include the Linux Foundation, the Free Software Foundation Europe, the LiMo Foundation consortium and the German LIVE linux-verband.de.
comments powered by

Disqus

Issue 199/2017
Buy this issue as a PDF
Digital Issue: Price $9.99

(incl. VAT)
News
Both projects help organizations build their own containerized systems.

Mark Shuttleworth has resumed the position of CEO of Canonical.

Microsoft's open source code hosting platform CodePlex will come to an end after a more than 10-year stint.

Comes with Gnome 3.24

The bug was introduced back in 2009 and has been lurking around all this time.

The new release deprecates the sshd_config UsePrivilegeSeparation option.

Lives on as a community project

Five new systems join Dell XPS 13 Developer Edition that come with Ubuntu pre-installed.

The Skype Linux client now has almost the same capabilities that it enjoys on other platforms.

At CeBIT 2017, OpenStack Day will offer a wide range of lectures and discussions.
Tag Cloud