OpenSUSE 11.2: First Release Candidate
Oct 16, 2009
The first openSUSE 11.2 release candidate is ready for download. RC2 is planned for the end of October with a final version expected November 12.
OpenSUSE 11.2 is on schedule. Alongside numerous repairs and some annoying new bugs, RC1 comes with an updated kernel (2.6.31.3), the new Gnome 2.28, a fresh QT version 4.5.3 and Pulseaudio 0.9.19. The release candidate from Seamonkey in its current test version is also included.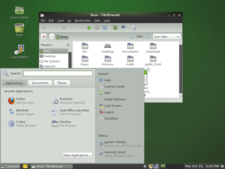 One of the most important features of openSUSE 11.2 is the live update with Zypper. 11.1 users with a current version of Zypper can upgrade with zypper dup. Also, all ISO images can via dd be transferred to a USB pendrive.
Compared to Milestone 8, the list of Most Annoying Bugs is a lot shorter. Known issues in the latest version include-
Restart fails to restart the system
Gnome icon sometimes fails to appear on the desktop
Repos are lost on update
As can be seen from this short list, version RC1 should not be used with production systems, but as Michael Loeffler says in his announcement on the openSUSE mailing list, the first release candidate of openSUSE 11.2 is almost ready for final release. RC1 as build 0336 can be downloaded from http://software.opensuse.org/developer.
comments powered by

Disqus

Issue 199/2017
Buy this issue as a PDF
Digital Issue: Price $9.99

(incl. VAT)
News
Both projects help organizations build their own containerized systems.

Mark Shuttleworth has resumed the position of CEO of Canonical.

Microsoft's open source code hosting platform CodePlex will come to an end after a more than 10-year stint.

Comes with Gnome 3.24

The bug was introduced back in 2009 and has been lurking around all this time.

The new release deprecates the sshd_config UsePrivilegeSeparation option.

Lives on as a community project

Five new systems join Dell XPS 13 Developer Edition that come with Ubuntu pre-installed.

The Skype Linux client now has almost the same capabilities that it enjoys on other platforms.

At CeBIT 2017, OpenStack Day will offer a wide range of lectures and discussions.
Tag Cloud