The Ubuntu One Music Store Now Online
Mar 23, 2010
Just missing the beta deadline, Ubuntu has today placed the version 10.04 of the new Music Store online for testing.
Tracks will cost between 77 and 99 cents. For premium labels, available in USA, UK and Germany only, Ubuntu are asking 1.49 Euros (Euro Shop)
per song. The first 60 seconds of each track can be heard as a teaser. With a seamless integration in Rhythmbox, the quality of the MP3 recordings
lies between 192 and 320 Kbs, regardless of price.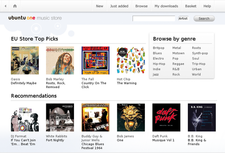 Users actually wishing to buy music, should be a little patient. The current version comes with hold-ups at the checkout, sometimes causing Rhythmbox to crash. Probably best then to wait for the stable final version.
Comments
Spotify on Ubuntu 10.04

Are there ways around this blocking of Spotify?? Wine and Spotify should work beyond Ubuntu restrictions????

Wrong?

No.

Ubuntu one music store

Ubuntu one music store may be OK for those that want to buy music but it is at the cost of those who prefer Spotify !

Spotify is now a banned item in ubuntu 10.04 beta,it will not complete installation cos they say it is not a safe item ! ! !
It may seem cynical to say that ubuntu have discovered that Spotify is no longer safe at just the same time as ubuntu music store is launched?

No other distro to my knowledge has any problem with Spotify and it is appalling that a distro that says it prizes free software should have such dual standards when cash income from paid for music comes above free choice !

Cannonical are Hypercrictal,its all about money !

Does anyone else feel that this is wrong ?
comments powered by

Disqus

Issue 199/2017
Buy this issue as a PDF
Digital Issue: Price $9.99

(incl. VAT)
News
Both projects help organizations build their own containerized systems.

Mark Shuttleworth has resumed the position of CEO of Canonical.

Microsoft's open source code hosting platform CodePlex will come to an end after a more than 10-year stint.

Comes with Gnome 3.24

The bug was introduced back in 2009 and has been lurking around all this time.

The new release deprecates the sshd_config UsePrivilegeSeparation option.

Lives on as a community project

Five new systems join Dell XPS 13 Developer Edition that come with Ubuntu pre-installed.

The Skype Linux client now has almost the same capabilities that it enjoys on other platforms.

At CeBIT 2017, OpenStack Day will offer a wide range of lectures and discussions.
Tag Cloud