Issue #199 / Jun 2017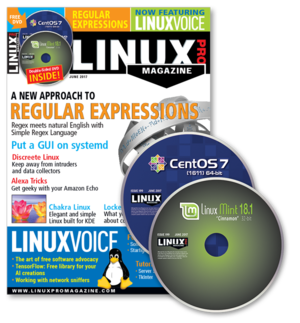 DVD: CentOS 7 Release 1611 (64-bit Install) & Linux Mint 18.1 Cinnamon (32-bit Live)
Approximate on sale dates:
UK/Europe: May 06
USA/Canada: Jun 02
Australia: Jul 03
Highlights:
Tired of composing and deciphering those weird, inscrutable strings of characters known as regular expressions? This month we show you Simple Regex Language (SRL), an innovative tool that lets you create regular expressions using simple English commands.
Other highlights within:
• Systemd Graphic Tools – You don't need to be a command-line junkie to keep an eye on the systemd service manager. We show you some graphic front ends that offer a friendlier view (page 26).
• Amazon Echo's Alexa – This month's Programming Snapshot shows how you can teach the Alexa assistant that lives in your Amazon Echo some new tricks (page 46).
You'll find more great articles in our Linux Voice section, including a practical lesson on network sniffers and a look at the free TensorFlow library for artificial intelligence applications.
Tip Talk
The New York City Taxi and Limousine commission announced a proposal that would require ride-hailing services such as Uber to include a space in the app for riders to leave a tip for the driver. The proposal was the work of the Independent Drivers Guild, an organization representing drivers from Uber and other ride-hailing vendors. The drivers want what coffee shop baristas and drivers for other services such as Lyft already have: an easy way for credit card customers to leave a tip.
CentOS 7 Release 1611 (64-bit Install) and Linux Mint 18.1 Cinnamon (32-bit Live)
Updates on technologies, trends, and tools
Chronicler Zack Brown reports on the latest news, views, dilemmas, and developments within the Linux kernel community.
Creating more readable regular expressions with Simple Regex Language
Regular expressions are a powerful tool, but they can also be very hard to digest. The Simple Regex Language lets you write regular expressions in natural language.
REVIEWS: Min
Exploring the Min web browser
A simple design, efficient performance, and a built-in ad blocker are reasons for a closer look at the Min web browser.
Security distribution
Internet users can fly under the radar of hackers and data collectors with Discreete Linux.
Graphical interfaces for systemd
Systemd has won the race, as indicated by the several tools that already offer a service just a mouse click away. We look at six of these tools.
The "removing systemd" experiment
The systemd service manager has been widely adopted by many Linux distros, so why would you want to remove it? The professor reveals why and how.
An elegant and simple Arch Linux-based distro
KDE lovers can rejoice at Chakra Linux's beautiful and functional operating system.
Securing and monitoring containers in enterprise environments
A recent flurry of activity in the container space raises several interesting questions about security among a number of operational aspects in the enterprise environment.
Equipping Alexa with self-programmed skills
Asking Alexa only for built-in functions like the weather report gets old quickly, and add-on skills from the skills store only go so far. With a few lines of code, Mike teaches this digital pet some new tricks.
Health Spa
Charly and XML have never been best friends. However, because it was vital for him to have an excellent climate indoors, he plucked up his courage and considered XMLStarlet.
WordGrinder and the escape from distraction
WordGrinder offers distraction-free writing; we look at how realistic that concept is in everyday use.
Intro to the Gnome Flashback desktop
If you struggle with the appearance and behavior of the Gnome desktop, the classic features of fallback mode offer an alternative in a familiar style. Lamented by many as dead and gone, Gnome 3 fallback is still alive and kicking in Gnome Flashback.
The Core Infrastructure Initiative revisited
How does the Core Infrastructure Initiative fare three years in?
Introduction
This month in Linux Voice.
LINUX VOICE: News
The Linux Voice View
OSI approval guarantees the freedom to innovate.
Everything Is Awesome
The past is a foreign country.
ROI
"maddog" ponders how our actions affect others in ways we cannot predict.
Spreading the word – The Art of Advocacy
Learn the tricks, tips, and techniques for converting friends, family, and colleagues to free and open source software.
LINUX VOICE: FAQ
TensorFlow
Welcome our new artificial intelligence overlords by tinkering with their gray matter.
Network Sniffers
Learn what's going on in your network, using Linux and its arsenal of packet capture tools.
Sparkling gems and new releases from the world of Free and Open Source Software.
First Steps in Server Security
Fear not the barbarians of cyberspace, and follow our guide to shoring up your digital defenses.
Graphical Python Apps in Minutes
Expand your Python knowledge and write GUI apps with a smattering of code, thanks to the TkInter toolkit.

Issue 199/2017
Buy this issue as a PDF
Digital Issue: Price $9.99

(incl. VAT)
Tag Cloud