Issue #213 / Aug 2018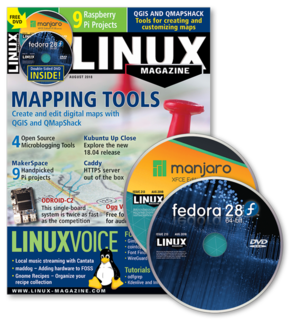 DVD: Fedora 28 Workstation and Manjaro XFCE 17.1.10
Approximate on sale dates:
UK/Europe: Jul 09
USA/Canada: Aug 03
Australia: Sep 03
Highlights:
This month's issue looks at Linux applications for viewing and customizing maps. You'll learn how to access and edit geospacial data with QGIS and QMapShack.
Also inside:
Free Microblogging Software – You don't have sign away your privacy just to tell your friends about your life.
Caddy – A useful little web server with an easy path to HTTPS.
Turn to our MakerSpace section for nine cool Raspberry Pi projects, and visit LinuxVoice for music streaming and recipe collections.
Technical Naiveté
I have used this space in the past to highlight a certain tendency in our culture to overstate the power, stability, and safety of our emerging technologies. For lack of a better term, I'll refer to this trait as technical naiveté.
Fedora 28 Workstation and Manjaro XFCE 17.1.10
Updates on technologies, trends, and tools
SUSE forks Red Hat's Spacewalk project, openSUSE Leap 15 announced, SoftMaker FreeOffice 2018 for Linux, a new CentOS, sonic and ultrasonic signals can crash your hard drive, and Microsoft acquires GitHub.
Zack discusses removing dead ports, new minimum GCC version jumping from 3.2 to 4.8, Intel considering hardware changes to mitigate security flaws, enhancing asymmetric process migration, and protecting user's system control.
Interview – Meet Gnome's Nuritzi Sanchez
Gnome Foundation president Nuritzi Sanchez is on a quest for a new generation of users.
Create, display, and evaluate geodata with QGIS
Create and display geospatial data with the versatile and popular QGIS.
QMapShack visualizes maps and tracks
QMapShack displays a wide variety of maps, making it easy to plan and manage your journeys.
Exploring Kubuntu 18.04 LTS and the Plasma desktop
Kubuntu 18.04, which is built on Ubuntu Bionic Beaver, is the first long-term support release that includes the Plasma 5 desktop. This article looks at the latest Kubuntu and highlights some cool configuration tricks.
Social networks in the enterprise
If you want to use social media and microblogging platforms, you do not need to leave your data sovereignty to external corporations. This month, we look at free decentralized software alternatives to Facebook, Twitter, and other social media and examine whether they are suitable for use in the enterprise and other organizations.
Ogg Vorbis utilities
With the addition of its supporting utilities, Ogg Vorbis competes with other free audio formats.
A Python script calculates the solution to the Chinese Rings puzzle
Mike Schilli takes on the almost 2,000-year-old Chinese Rings puzzle. Instead of just jingling rings, he tries to find a solution with logical operators.
HTTPS out of the box with the Caddy secure web server
Caddy lets even the most inexperienced user set up a secure web server.
Particulate matter measurement with the Raspberry Pi
Whether you can breathe easily or not depends on what is in the air. Is there too much particulate matter that could be harmful to your health? A particulate matter measurement provides clarity – and the Raspberry Pi can help.
An alternative to the Raspberry Pi 3
The inexpensive ODROID-C2 module runs two to three times faster than a Raspberry Pi 3.
Nine handpicked projects for the Raspberry Pi
The Raspberry Pi success story has inspired thousands of projects. In this article, we present a selection of Raspberry Pi gems for hobbyists, researchers, and industrial use.
A chip to enable open hardware
The new RISC-V chip promises to be a game changer in the open hardware field.
Introduction
The amazing thing about Linux is that it can always take you one step more. You can already play music and edit videos using the powerful tools included free of charge on any standard Linux system, so you don't need a Linux magazine to tell you how to play an MP3 file. But we'd rather help you with the next step.
The fight for FOSSH continues
While Free and Open Source Software and Hardware is becoming more commonplace, the battle against closed source isn't over.
The openSUSE community assembles in Prague.
Online Jukebox
The MPD server helps you manage your music collection flexibly and remotely and integrates external content.
À la Carte
Cutting recipes out of magazines and attaching them to the fridge is a thing of the past. Today, Gnome Recipes is your friendly kitchen helper.
Graham looks at Gimp 2.10, Font Finder, Mixxx 2.1, SoundStage VR, VVave, and more!
Needle in a Haystack
What grep cannot accomplish with LibreOffice and OpenOffice documents, a small odfgrep script can.
Odd Couple
By using two very different tools, Kdenlive and ImageMagick, you can make animation less tediousness and create some pretty cool video effects and transitions.

Issue 214/2018
Buy this issue as a PDF
Digital Issue: Price $9.99

(incl. VAT)