Issue #196 / Mar 2017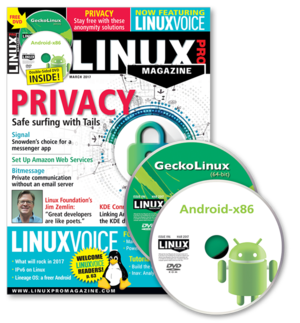 Approximate on sale dates:
UK/Europe: Feb 04
USA/Canada: Mar 03
Australia: Apr 03
Highlights:
This month you'll learn about Tails – the easiest path to the Tor anonymity network – and you'll discover some tools for private communication, including Signal and Bitmessage.
Other Highlights:
• KDE Connect – a cool tool for syncing your phone with the KDE desktop (page 48).
• Amazon Web Services run your homegrown programs in Amazon's popular cloud (page 52).
Plus plenty more in LinuxVoice, including a look at what's ahead for the Linux faithful in 2017 (page 63).
Will Someone?
One of the more interesting news items that crossed my desk – or my desktop, as in Mate, since loose papers don't really fly through my office like they used to, was a quote from Hewlett-Packard Enterprise's CEO Meg Whitman, "AI and robots? Will someone think of the jobs?"
GeckoLinux (64-bit Live) and Android-x86 (32-bit Live)
Red Hat Linux releases RHEL 6.9 Beta; SUSE working on a new operating system called MicroOS; Critical security holes found in PHP 7; New Android malware discovered; Serious bug found in Ubuntu.
Chronicler Zack Brown reports on the latest news, views, dilemmas, and developments within the Linux kernel community.
Swimming with the Poets
Jim Zemlin has directed the Linux Foundation since 2007, when the foundation began with the merger of the Open Source Development Labs (OSDL) and the Free Standards Group (FSG). Today the Linux Foundation has gone beyond Linux and become a huge umbrella that houses many open source projects that are critical to our economy and society.
Better privacy with Tails
The Tails Live Linux distribution provides privacy-conscious users with easy access to the Tor network for anonymous surfing.
An open source router built for security
Home routers are known for weak security. Turris Omnia is an attempt to build a better router through the power of open source.
The Signal messenger app encrypts voice and text messages
Signal is an efficient private messenger app that encrypts voice and text messages, integrates easily into existing interfaces, and places all communications in a single display.
Inventory software on Linux
As a network grows in size, it becomes increasingly difficult to keep track of hardware, software, licenses, and infrastructure. Inventory solutions can provide significant relief.
The sys admin's daily grind: SparkFun
Is your neighbor burning the wrong kind of wood or did a couple of VWs just pass by your house? Charly finds out with a sensor. For an attractive approach to visualizing boring measurement figures, you can either use your own web server or rely on a specialized service like SparkFun.
Social networking the FOSS way
Forget email: Bitmessage harnesses the power of public key cryptography to create a decentralized, trustless P2P communications protocol. Messages are virtually impossible to spoof or tap.
KDE Connect links Android with the Plasma desktop
KDE Connect bridges the gap between mobile devices and the KDE desktop, allowing the exchange of notifications, files, and URLs between devices.
Set up Amazon Web Services
When applications run in a cloud system on Amazon Web Services, operators can forget management worries and concentrate instead on the essence of the app. Codemeister Mike Schilli performs the basic setup of the web service in the first part of this workshop.
Fixing broken packages in Debian systems
When human error stumps the Debian package manager, familiar tools like apt-get, aptitude, and dpkg can help restore functionality.
Static galleries with Expose
Expose offers a wide range of configurable options for publishing static photo and video galleries in an easy-to-use tool.
Introduction
What does the word Linux mean to you?
2016 was a wild ride – and 2017 promises to deliver even more FOSS goodness.
FOSS Cooperativism
Cooperatives have a lot of power and flexibility that other business models lack. FOSS projects have leveraged this structure to create valuable and lasting products.
Free Software misses an opportunity.
Lineage OS
CyanogenMod is dead. Long live Lineage.
IPv6 in Linux
IPv6 is the future of the Internet, and it promises many goodies. Discover what your Linux box can do about it today.
Sparkling gems and new releases from the world of Free and Open Source Software
Understanding System Services with lnav
See what's going on in the background of your Linux box by analyzing the logfiles.
Your very own Linux, Have It Your Way
Get a super-customized Linux installation by configuring and compiling the kernel with just the features you need.

Issue 28: GIMP Handbook 4th Ed./Special Editions
Buy this issue as a PDF
Digital Issue: Price $15.99

(incl. VAT)
Tag Cloud