Issue #228 / Nov 2019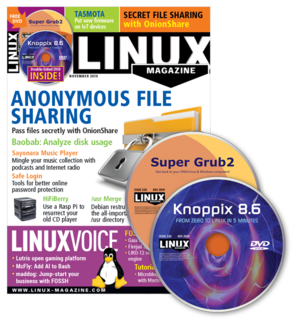 DVD: Knoppix 8.6 and Super Grub2
Approximate on sale dates:
UK/Europe: Sep 28
USA/Canada: Oct 25
Australia: Oct 25
Highlights:
Sure you've heard of the Tor Browser, but what about OnionShare? This cool tool for the invisible web lets you share files without revealing your identity. Also in this month's issue:
Baobab - find and remove unnecessary files and directories.
Secure Online Passwords - discover some tools and techniques for keeping online passwords safe.
Check out MakerSpace for a look at how to expand the range of wireless communication for IoT devices using the low-power and long-range LoRa communication protocol. Also inside, our LinuxVoice section, we study the Lutris gaming platform and takes a swat at McFly, an innovative solution that brings the power of AI to the Bash shell.
Welcome
This article went to press one week before Richard Stallman abruptly resigned as head of the Free Software Foundation. Yikes! All is flux in the FOSS world. Still, the trend toward détente between Microsoft and the Free Software community is bound to continue, and these thoughts on Stallman's recent visit to Redmond offer a glimpse into how real change happens – one small step at a time.
Knoppix 8.6 and Super Grub2
The New Kali Linux Is Here; exFAT Is Coming to Linux; Knoppix 8.6 Released; openSUSE Board Gets a New Chairman; Bluetooth Vulnerability Makes; Spying Easy; Open Source Webmin Had Backdoor for More Than a Year.
Creating libperf; Using GCC Extensions; Editing the Laws of the Universe.
Anonymous File Sharing with OnionShare 2.0
OnionShare lets you share files without revealing IP addresses or domain names. The latest version also allows uploads.
Exploring the Sayonara audio player
For a simple audio player, check out Sayonara Player, a great choice for enjoying all your favorite music, Internet radio, and podcasts.
Analyze disk usage with Baobab
Unnecessary files and directories take up valuable space on hard disks or SSDs. Baobab lets you locate and remove data garbage at the push of a button.
And the Time Is …
The Network Time Protocol allows admins to keep time on their computers. Due to the way the system works, this timekeeping is only moderately successful. Charly uses the ntpviz statistics tool to visualize time fluctuation.
Adding dialog boxes to shell scripts
Create dialog boxes with checkboxes, progress bars, and many other features that users may find helpful when working at the command line.
Online password protection
Securely storing passwords online can be a complex task. With a few tools, websites can offer better security, but users still need to choose their passwords wisely.
Mandatory Access Control with AppArmor
Today's security environment is a tumultuous landscape riddled with threats. AppArmor offers an extra ring of protection for your system, and it is easier to learn and implement than many alternative mandatory access control solutions.
Go program stores directory paths
When you change directories at the command line, you often find yourself jumping back and forth between known paths. With a utility written in Go, Mike Schilli records the jumps and shows the way back.
Cleaning up the filesystem
At long last, Debian joins other Unix-like distributions in merging /usr directories.
Making smart devices smarter with Tasmota
Flashing IoT devices with new firmware lets you wield control and keep them out of the cloud.
Wireless control over a long distance with the LoRa modem
WiFi is convenient for devices that are in the same house. If you want to extend the distance, give LoRa a call.
Designing Keyboardio
Jessie Vincent, cofounder of Keyboardio, looks back at the process of designing an efficient and comfortable keyboard and some of the design decisions and challenges involved.
A networked receiver for digital music
Build a networked receiver for your digital music collection with an old stereo, a Raspberry Pi, and the HiFiBerry.
This month in Linux Voice
Starting out with FOSSH
For entrepreneurs with little money, FOSSH offers a way to get their projects off the ground.
LINUX VOICE: Lutris
If you frequently play games on Linux, you are accustomed to dealing with many different installers and configurations. Lutris can help simplify the process of setting up all your games.
LINUX VOICE: McFly
When it comes to working at the command line, using Bash history effectively can save you time. McFly extends the Bash history's features and helps you find past commands more quickly.
As you might guess from certain titles in this month's selection, Graham has finally built himself an open source 3D printer.
The open and simple Mastodon API makes it easy to create applications to interact with this federated microblogging platform. Here are some of the clients that the community has come up with and how you can use them.

Issue 228/2019
Buy this issue as a PDF
Digital Issue: Price $12.99

(incl. VAT)