Issue #172 / Mar 2015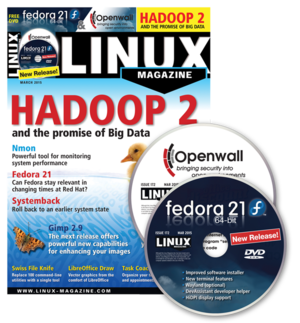 Approximate on sale dates:
UK/Europe: Jan 30
USA/Canada: Feb 26
Australia: Mar 29
Highlights:
Hadoop version 2 has transitioned from an application to a powerful Big Data platform. Take a swim in the data lake.
How many patents are enough? Or perhaps more importantly, how many patents can be squeezed from one body of knowledge when you're basically doing what everyone else is doing? These questions are fresh in mind as I read the report at eWeek stating that IBM set a new record by receiving 7,534 patents in 2014, the 22nd year in a row that IBM has topped the list for most patents.
Fedora 21 and Openwall
Updates on Technologies, Trends, and Tools
Of lakes and sparks – How Hadoop 2 got it right
Hadoop version 2 has transitioned from an application to a Big Data platform. Reports of its demise are premature at best.
COVER STORIES: Nmon
All-purpose admin tool
Administrators often assume that if all nodes are functioning, the system is fine. However, a common problem is poor or unexpected application performance. In this case, you need a simple tool to help you understand what's happening on the nodes: nmon.
Gimp 2.9 – A sneak preview of the next major version
The Gimp revamp is in full swing. We look at developer version 2.9.1 to explain the new components and features that are expected to find their way into the Gimp 2.10 major release.
Exploring the new Fedora 21
Fedora 21 appears with a new vision and some interesting new tools for developers and system administrators.
Platform-independent toolkit – Swiss File Knife
Swiss File Knife replaces more than 100 individual command-line tools at once, but it still fits on a USB stick and runs on all major operating systems.
Lean Debian derivative Semplice Linux
Semplice is a fast and simple desktop system that avoids the clunky, stripped-down look associated with many "lean" Linux distros.
Lock down your logfiles with logrotate
The simple act of logging can create management and storage nightmares. Logrotate brings creative solutions to your logging needs.
GoboLinux, NixOS, and Bedrock flourish undercover
With systemd poised to revolutionize the init process, we look at Linux distributions that have left the familiar path, use new approaches and techniques, and are paving the way for the next generation of Linux distros.
Klaus Knopper answers your Linux questions
Backing up and restoring your system using Systemback
At the push of a button, Systemback backs up or clones the complete current system and can restore it as required.
Perl checks for rain and issues umbrella warning
A Perl script that retrieves the current weather forecast at dawn helps the Perlmeister decide whether to run the risk or take an umbrella just in case.
The sys admin's daily grind – Metasploitable
If you mess around with a pen-testing tool on your own network, you might survive the consequences, but chances are you'll take the prize for outstanding recklessness. Charly has some advice: Use Metasploitable, perhaps the most broken Linux ever.
Getting the best performance from solid state drives on Linux
Nothing accelerates a PC like transitioning to an SSD, but some special configuration might be in order if you want to get the most from your drive.
Create a knowledgebase with phpMyFAQ
Transform information into knowledge by deploying a phpMyFAQ-based database of frequently asked questions.
Create vector graphics with LibreOffice Draw
The LibreOffice suite is best known for its word processing and spreadsheet applications. However, LibreOffice also comes with Draw – an excellent vector drawing program.
Managing Vim plugins
Managing plugins is a requirement for Vim users, and plugin managers can make the task easier. We look at four options.
Tracking appointments and tasks with Task Coach
The legacy handwritten diary has outlived its usefulness. Task Coach helps you organize your tasks and appointments.
Enhancing your work habits with KDE
KDE extends the concept of the desktop with innovations that can significantly enhance your productivity.
The rise and fall of technical colleges
"maddog" discusses some of the benefits of affordable technical education.

Issue 172/2015
Buy this issue as a PDF
Digital Issue: Price $9.99

(incl. VAT)
Tag Cloud