Issue #189 / Aug 2016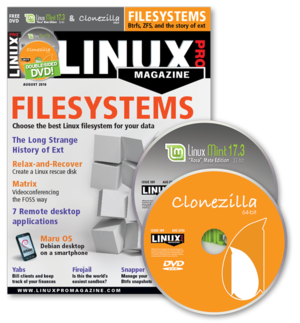 DVD: Linux Mint 17.3 and Clonezilla
Approximate on sale dates:
UK/Europe: Jul 02
USA/Canada: Jul 29
Australia: Aug 29
Highlights:
In Linux, everything is a file, but different filesystems handle metadata, optimization, and other functions differently. We look at three popular filesystems.
The Great Debate
The history of high tech in politics writes another chapter this season, with Twitter taking on new importance. Barack Obama pioneered the use of Twitter as a campaign vehicle in his 2008 and 2012 campaigns, carefully coordinating his tweets to complement a comprehensive strategy of voter outreach.
This time, candidate Donald Trump appears to be using Twitter even more than Obama did. In fact, one could argue that Twitter is Trump's primary mode of communication – every day a few more Trump tweets appear in the news headlines.
Linux Mint 17.3 "Rosa" Mate and Clonezilla Live 2.4.6-25
Updates on technologies, trends, and tools
COVER STORIES: Btrfs
Btrfs and the future of the filesystem
The Btrfs filesystem offers advanced features such as RAID, subvolumes, snapshots, checksums, and transparent compression, but do desktop users really need all that power?
COVER STORIES: ZFS
The professional filesystem ZFS
ZFS is a first-class filesystem for big iron, but for various reasons, it is still waiting for widespread Linux adoption.
Life and times of the classic ext Linux filesystem
The ext filesystem celebrates its 25th birthday next year. A brief tour of ext history will give you some insights into how this classic Linux filesystem works – and how it has evolved to meet users' needs.
Tool tests on the fast track
We test DK Tools 4.2.2, Midnight Commander 4.8.15, Datamash 1.1.0, F3 6.0, Sauvegarde 0.0.7, and WackoWiki 5.4.3.
The Matrix decentralized communication tool tested
One tool to rule all online communication: one tool to find them, one tool to bring them all in, and the Matrix to bind them. An open standard for decentralized communication enters the scene.
Remote desktop applications
Remote desktop applications allow remote access to machines, including desktop sharing, which makes them useful assistants in both the personal and professional spheres. We look at a few candidates.
Restore Btrfs files at the push of a button with Snapper
Thanks to Btrfs snapshots, Snapper lets you restore a system to a previous state in case of failure.
Debian 8 on the Nexus 5
Maru OS provides a desktop Debian on a smartphone.
Disaster recovery framework
A simple Bash shell script can be a very powerful tool: Relax-and-Recover generates rescue media from running systems, takes care of backups, and helps when migrating computers to new hardware or converting to virtual machines.
Klaus Knopper answers your Linux questions
Klaus talks about the gpm mouse driver for ncurses, auto-login without a password, using Live discs, and associating MIME types.
The Sys Admin's Daily Grind: Etckeeper
Configuration files change over the life of almost every Linux system, but not always for the better. Sometimes individual /etc files literally degenerate. Don't despair: You can restore a state from better days.
Switch power outlets on and off with home automation tools
The "If This Then That" web service lets you simply click together home automation components, instead of laboriously integrating them via their APIs. However, you still have to open the hood for the nitty gritty where applicable.
LINUXUSER: Yabs
Billing for small businesses and freelancers
Finances and accounting are among the more unpopular tasks in small businesses. With Linux and the free program Yabs, however, you can easily keep track of your finances.
Sandboxing with Firejail
Firejail makes sandboxing as easy as typing eight letters in front of a command.
Scan Tailor and Paperwork
Transform piles of paper into a neatly organized and searchable digital library with Scan Tailor and Paperwork.
Faster search filter: ICgrep
One of the most common tasks when working on computers involves browsing texts for search patterns. Here, ICgrep offers a modern, parallel, and Unicode-enabled alternative to the classic grep.
COMMUNITY NOTEBOOK: Krita 3.0
What's new in Krita 3.0
Krita, a free sketching and painting program, has new features and improvements in version 3.0.
Doghouse – Open Source Endurance
I was reading an Atlanta Linux Enthusiasts (ALE) mailing list recently that has been around a long time. Many of the people on that list have been reading and writing to the list for 20 years. One of them had just installed a version of the Common Desktop Environment (CDE), which was developed when I was working at Digital Equipment Corporation (DEC) more than 20 years ago.

Issue 191/2016
Buy this issue as a PDF
Digital Issue: Price $9.99

(incl. VAT)
Tag Cloud