Issue #161 / Apr 2014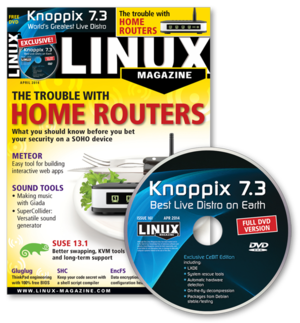 DVD: Knoppix 7.3
Approximate on sale dates:
UK/Europe: Mar 08
USA/Canada: Apr 04
Australia: May 05
Highlights:
Discover the vulnerabilities of typical home and small office routers, and consider the SafeSquid filter proxy for secure home surfing.
Cover Stories:
Security and SOHO Routers: Home and small office networks typically place their security in the hands of an inexpensive device that serves as a router. How secure are these SOHO router devices?
SafeSquid: If you are looking to secure your home surfing against questionable web content, you need a filtering proxy. SafeSquid filters content as it moves between the browser and the Internet.
Also in this issue:
Comment: The New Kid
On the DVD: Knoppix 7.3
News
SuperCollider: SuperCollider is a versatile and powerful sound generator.
EncFS: The EncFS virtual filesystem reduces the configuration overhead of encrypting data on Linux.
Meteor: Build interactive web apps the easy way with this sensible JavaScript development tool.
Knoppix 7.3: Learn about the latest Knoppix Live Linux distro.
Ask Klaus! Klaus Knopper answers your Linux questions.
Areca Backup: Hassle-free backups of individual hard drives.
Charly – Fish: The tasty Friendly Interactive Shell.
Security Lessons – DNS: Keep bad guys out of your network with targeted filtering.
SHC – Bash Script Compiler: Convert shell scripts directly into binaries.
Perl – Cucumber: Natural language test framework for developers.
Command Line – Vundle: Manage Vim plugins.
F3 – Testing Flash Memory: Check flash sticks for defects.
Workspace – HTML-Based Presentations: Great-looking presentations in a browser.
Giada: Process sound loops and more.
Labyrinth: Mind mapping software.
PiCam Surveillance: Video surveillance with the new Raspberry Pi camera.
openSUSE 13.1: Inside the newest version.
Gluglug: Laptop 100% free and open source.
Doghouse – Pay It Forward: "maddog" reflects on ways people can contribute to the present as well as the future of software development.
Kernel News: Chronicler Zack Brown reports on the latest news, views, dilemmas, and developments within the Linux kernel community.

Issue 161/2014
Buy this issue as a PDF
Digital Issue: Price $9.99
(incl. VAT)
Tag Cloud