Issue #167 / Oct 2014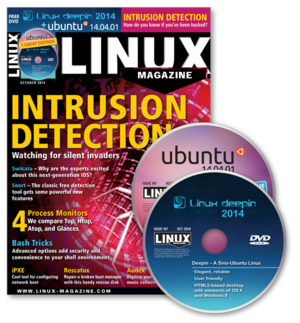 DVD: Deepin 2014 and Ubuntu 14.04.01
Approximate on sale dates:
UK/Europe: Sep 08
USA/Canada: Oct 03
Australia: Nov 03
Highlights:
This month we look at two intrusion detection tools to help keep your systems safe.
RadioShack has dug itself into serious financial straits through the years by failing to stay with the times. When I was a kid, "Radio Shack" was a cool little store with lots of strange gadgets for electronics hobbyists and do-it-yourself home repair types. Any business that intentionally calls itself a "shack" is clearly trying to evoke an image, and the Radio Shack image was a preserve for the home inventor, laboring in a backyard shop, contentedly stringing wires and soldering connections amid piles of loose parts and circuit diagrams.
This months double-sided DVD features deepin 2014, an elegant and intuitive system built on Ubuntu 14.04, and Ubuntu 14.04.01.
Updates on Technologies, Trends, and Tools
Protecting your network with the Suricata intrusion detection system
Snort isn't the only free intrusion detection tool in the barnyard. We'll show you a powerful and promising alternative known as Suricata.
Exploring the latest version of Snort
Get ready for a bigger and better Snort. If you're used to protecting your systems with this trusty intrusion detection tool, you'll appreciate the new features in the latest version.
New desktop: Deepin Desktop Environment
Gnome version 3 lost many friends, prompting Linux users to look for alternatives. The elegant and carefully crafted Deepin Linux pushes into the gap with a desktop that feels like a hybrid of Linux, Windows, and Mac OS.
Detoxing your operating system
Linux and many Internet services just love logging. To keep your system from putting on too much weight and wasting valuable disk space, we present an effective diet with guaranteed success.
Repairing boot managers and more in Linux and Windows
If your computer fails to boot, you need a helping hand. Rescatux combines proven repair and rescue tools.
Synchronizing data with the Git-annex Assistant
Git-annex Assistant is a handy web interface that lets you use the power of Git to synchronize data across several computers.
The sys admin's daily grind: Shell In A Box
At some point, any service that can't run fast enough will be put on the web. So, why not do this for remote login? With a little JavaScript and CSS wizardry, a software tool called "Shell In A Box" sends a shell to the browser.
Enhance and secure your Bash shells
The Bash shell is powerful and infinitely expressive. In this article we describe some tricky techniques you can use to enhance and customize your Bash environment.
Archiving Spotify playlists
For a monthly fee, the Spotify streaming service beams music onto your desktop or phone. To intensify the groove, Perlmeister Mike Schilli archived his Spotify playlists for eternity using an OAuth-protected web API.
FEATURES: iPXE
The versatile networkboot loader iPXE
iPXE simplifies the task of booting images over a network and also lets admins design dynamic boot menus that integrate scripts and boot images via HTTP(S).
Comparing the Top, Htop, Atop, and Glances system monitors
The Top system monitor is a useful aid for identifying system bottlenecks, and Htop, Atop, and Glances extend its possibilities.
Klaus Knopper answers your Linux questions
What's new in Knoppix 7.4?
Chrome open source apps and extensions
Transform the Chrome and Chromium browsers into productivity powerhouses with open source apps and extensions.
Synchronizing folders and files
Legacy backup programs are too heavyweight for a quick backup on the fly, but Synkron helps you keep smaller datasets in sync with just a couple of mouse clicks.
Copying and pasting with Vim and YankRing
With the YankRing plugin, Vim's yank and pull features become even more powerful.
Audex, the lean audio CD ripper
With the Audex CD ripper, you can start digitizing your personal music collection immediately.
Who's to blame when products fail?
"maddog" takes exception to attempts to blame Open Source for some recent product failures.
The Linux Beer Hike in Wales
Pretty little villages with unpronounceable names, cozy pubs, a beautiful countryside with canals, rivers, waterfalls, sheep, and hills – welcome to the annual Linux Beer Hike in Talybont-on-Usk, Wales.
Chronicler Zack Brown reports on the latest news, views, dilemmas, and developments within the Linux kernel community.
In June, Linux users and developers gathered at the Austin Convention Center for Texas Linux Fest 2014.

Issue 169/2014
Buy this issue as a PDF
Digital Issue: Price $9.99

(incl. VAT)
Tag Cloud