Issue #193 / Dec 2016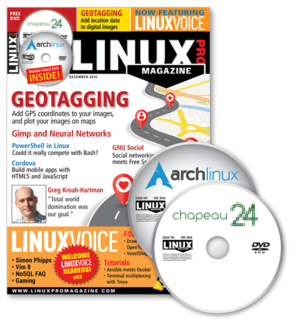 Approximate on sale dates:
UK/Europe: Oct 29
USA/Canada: Nov 25
Australia: Dec 26
Highlights:
This month's issue brims full with tools and insights on real-world Linux. A couple highlights:
Deep Learning - add color to your black and white photos using the power of a neural network.
Cordova - this fertile framework from the Apache foundation lets you roll out apps for eight operating systems.
A special welcome to our friends in the Linux Voice community. Check out our new Linux Voice section.
Updates on technologies, trends, and tools
Chronicler Zack Brown reports on the latest news, views, dilemmas, and developments within the Linux kernel community.
An interview with Greg Kroah-Hartman
Embedding geotags in digital photos
Add location data to your best digital images with digiKam and GPS Correlate.
We test drive the latest Skype for Linux
The old Microsoft gave the cold shoulder to Skype for Linux, neither updating it nor equipping it with new features. The new Microsoft promises to do better, with a brand new alpha prerelease version of a Linux client for the famous telephony tool.
Putting office suites to the test
In the office, the interoperability and cooperation of a few programs play an important role. We take the four big Linux office suites to task and see how well they cope with non-native formats.
Gimp and neural networks
Deep learning isn't just for industrial automation tasks. With a little help from Gimp and some special neural network tools, you can add color to your old black and white images.
Cryptomator protects in the cloud
Make files fit for the cloud with Cryptomator by encrypting content and obscuring the name and size of each file.
Microsoft's PowerShell for Linux
Microsoft released its PowerShell under a free license in August 2016 and ported the tool to Linux and Mac OS. Is PowerShell for Linux a mere marketing ploy or a real contender that can compete with native Linux shells?
Exploring the FOSS alternative to Twitter
GNU social is a free and open source microblogging platform similar to Twitter. You can join one of the public federated servers or set up your own in minutes.
Klaus Knopper answers your Linux questions
Developing apps with Apache Cordova
Roll out an app elegantly and quickly for up to eight operating systems using the Cordova framework. According to the Apache Foundation, the only requirements are knowledge of HTML, CSS, and JavaScript.
IN-DEPTH: cURL
cURLing up to file transfers
cURL is a powerful file transfer tool that is simple to learn but can get you in trouble if you don't keep track of your options.
Termux for Android
Termux transforms an Android device into a lightweight and versatile Linux environment. This article introduces you to this must-have app.
The sys admin's daily grind: Yowsup
Sys admin Charly likes to keep up with the state of his domestic strawberry plants, so he has outsmarted WhatsApp to allow status messages to be sent through the service from a PC or Raspberry Pi.
LINUX VOICE: News
The Linux Voice view on what's going on in the world of Free Software
You don't control that device you think you own.
Should the FSF be thinking about a code of conduct?
We explore the new goodies in the latest release of this classic text editor.
LINUX VOICE: FAQ
FAQ
Big data is like The Matrix – Better without the sequel
One ip tool to rule them all
Prise the back off Linux and find out what really makes it tick.
Sparkling gems and new releases from the world of Free and Open Source Software
LINUX VOICE: Gaming
The tastiest brain candy to relax those tired neurons
Combine Ansible and Docker to streamline software deployment
Turbo-charge your command-line workflow with Tmux

Issue 193/2016
Buy this issue as a PDF
Digital Issue: Price $9.99

(incl. VAT)
Tag Cloud