Issue #74 / Jan 2007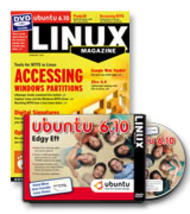 DVD: Ubuntu 6.10 'Edgy Eft'
Dear Linux Magazine Reader, Usually we only get one cataclysmic, world-changing Linux event per month, but it looks......
Linux New Media Awards 2006
Community and commercial cooperation is increasingly important in the Open Source world. At this year's Linux New Media Awards, we were the first to award a prize for the best combination of fire and water. This year's awards were presented at the LinuxWorld Expo in Cologne, Germany.
SCANDINAVIAN OPEN SOURCE AWARD SCANDINAVIAN OPEN SOURCE AWARD II ENTER CHINA – WITH A PARTY INDIC OPEN OFFICE MINI-C......
ReiserFS Turmoil Status of sysctl Maintainership Issues Filesystem Benchmarks DeLOCK USB Ethern......
HowTo Lost Article ...
Accessing NTFS partitions in Linux
Whether you are troubleshooting or just configuring for efficiency, it is a good idea to explore your options for accessing your Windows partitions from Linux.
Exploring the ntfsprogs toolset
The ntfsprogs toolset lets you manage NTFS resources from the Linux command line.
Accessing NTFS on a dual-boot system with Captive
Captive offers access to NTFS through the original Windows driver. We tried out Captive 1.1.7 in a real-world dual-boot scenario with low-end hardware.
Accessing NTFS from a Linux live distro
A Linux live distro may be just what you need to recover a Windows computer brought down by a system problem or virus attack. Knoppix creator Klaus Knopper gives you some tips for accessing NTFS from live Linux.
Live Linux CDs: Building and Customizing Bootables Core Python Programming, Second Edition Moving to Ubuntu Linux...
Visit Our Shop
Direct Download
Tag Cloud