Issue #75 / Feb 2007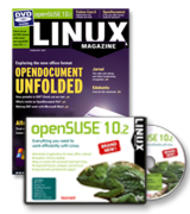 DVD: openSUSE 10.2
Dear Linux Magazine Reader, Despite all the talk of alleged patent infringement issues with Linux, no one seems to h......
A DISTRO FOR NEPALI SPEAKERS CREATIVE COMPUTING IN TAIWAN OPEN SOURCE CELEBRATIONS IN QUEBEC...
Hard Core Filesystem Tests New Non-Journaling Filesystem, SpadFS Peace-Forking util-linux Promise O......
Best of Small Distros? DVD Suggestions ...
Open Document Format in practice
What happens when you feed an ODT document created with OpenOffice to a word processor like AbiWord, KWord, or Writely? Read on to find out.
The Open Document Add-in for Microsoft Office
With a little help from the ODF plugin, Microsoft Office can open up documents saved in the free Open Document format. A short test reveals just how well it works.
A tour of OpenOffice alternatives
If OpenOffice is too fat and feature-rich for your taste, try one of the office alternatives. We found much to like and much to wish for when we put six office suites to the test.
Online office suites
A mobile office without a laptop? No problem – a new generation of web applications converts your browser into a word processor or spreadsheet.
In Search of Stupidity: Over 20 Years of High-Tech Marketing Disasters, 2nd ed. DNS and BIND, 5th Edition Implementi......
Fedora Core 6 Test Drive
See what's new in Fedora Core 6 – the latest release of the Red Hat-based Fedora project.
Visit Our Shop
Direct Download
Tag Cloud