Issue #91 / Jun 2008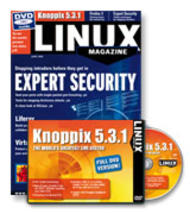 Knoppix is the quintessential Live troubleshooting tool for admins, developers, and desktop Linux users. This Debia......
OpenStreetMap Mapping Party, OpenOffice Goes Malaysia, Linux-only at Swiss Schools, Call for Performance Proposals...
We thought you might be interested in the following new products: Paragon Partition Manager 9.0 Server Edition......
Staying one step ahead of the intruders
Internet intruders have many ingenious ways of escalating privileges and hiding their presence once they get inside your system. The best protection is to keep them out in the cold.
Remote access security with single-packet port knocking
If you are looking for an extra layer of remote access security, try single-packet port knocking.
Fighting dictionary attacks with Sshutout and Fail2ban
Services that require a username and password for login are potential targets for dictionary attacks. Sshutout and Fail2ban introduce time penalties for invalid attempts.
Visit Our Shop
Direct Download
Tag Cloud