Learning Tools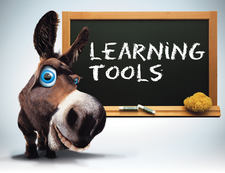 Educational software doesn't necessarily have to be developed by programmers. JClic gives educators an easy option for developing exercises for their students.
Legacy educational programs typically give you a selection of pre-built exercises. JClic gives teachers the option of compiling exercises to match any lesson.
Learning programs and educational exercises are available for all age groups and many different topics. In fact, there are so many options that it is hard to keep track of them all. This said, most software tends to be generic, rather than based on any specific syllabus. For this reason, educators looking to use computers for special exercises and projects with their students might not be able to find software that they can use in a meaningful way.
Authoring systems are a recent invention designed to remove this deficit by helping teachers compile individual content. The idea is simply that non-programmers should be able to implement any content they deem relevant to their syllabus in a software program. Among Linux users, one program is gathering a community thanks to its simple controls, sophisticated options for designing a variety of teaching aids, and free availability under the GPL: JClic.
[...]
comments powered by

Disqus