Issue #105 / Aug 2009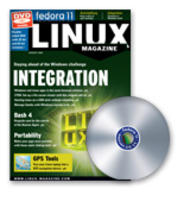 Exploring the latest version of the great Bourne-again shell
Despite the Bourne-again shell's biblical age and high level of maturity, developers continue to work on it. We take a look at the latest Bash release.
The Red Hat–sponsored Fedora Linux is a favorite with developers, admins, and end users around the world. This month'......
Smart tools for staying ahead of the Windows challenge
This month we feature some new ideas for Windows integration.
Running Windows and Linux apps on the same desktop with OVD
Serve up a fully functional virtual desktop through a web browser – with Windows and Linux apps running side by side.
Sneaking Linux into Windows
Carry a virtual Linux machine with you wherever you go.
Setting up a file server cluster with Samba and CTDB
Samba Version 3.3 and the CTDB lock manager provide full cluster support.
Exploring Samba's new registry-based configuration
Samba's new registry-based configuration system conserves resources and lets the administrator configure entire clusters with a single command.
Visit Our Shop
Direct Download
Tag Cloud