What's new in Python 3
Backports
Python 2.6's whole purpose in life is to make the move to version 3 as easy as possible, so many Python 3.0 features were backported to Python 2.6.
Resource management using with is an important new feature in Python 2.6. A resource (file, socket, mutex, …) is automatically bound when entering and released when exiting the with block. This idiom will remind C++ programmers of "Resource Acquisition Is Initialization" (RAII), wherein a resource is bound to an object. The with statement acts like try … finally from the user's point of view, in that both the try block and the finally block are always executed. All of this happens without explicit exception handling.
How does all of this work? In a with block, you can use any object provided by the context management protocol – that is, which has internal __enter()__ and __exit()__ methods. When entering the with block, the __enter()__ method is automatically called, as is __exit()__ when exiting the block.
The file object comes complete with these methods (Listing 2). Resource management is easy to code, however. A classic application would be to protect a code block against simultaneous access. Listing 3 has placeholders for the code block. The locked class objects prevent competitive access in the with block by using myLock to synchronize the block.
01 with open('/etc/passwd', 'r') as file:
02     for line in file:
03        print line,
04 # file is closed
01 with locked(myLock):
02             # Code here executes with myLock held.  The lock is
03             # guaranteed to be released when the block is left
04 class locked:
05     def __init__(self, lock):
06         self.lock = lock
07     def __enter__(self):
08         self.lock.acquire()
09     def __exit__(self, type, value, tb):
10         self.lock.release()
If this is too much work for you, you can use the contextmanager decorator from the new contextlib [2] library to benefit from its resource management functionality. Many other applications are listed in the Python Enhancement Proposal (PEP) 0343 [3].
Abstractions
The biggest syntactic extension to Python 2.6 is probably the introduction of abstract base classes. Whether an object could be used in a context previously depended on the object's properties and not on its formal interface specification. This idiom is known as duck typing, from a James Whitcomb Riley poem ("When I see a bird that walks like a duck and swims like a duck and quacks like a duck, I call that bird a duck.").
If a class contains an abstract method, it becomes an abstract base class and cannot be instantiated. Derivative classes can only be created if they implement these abstract methods. Abstract base classes in Python act in a similar way to abstract base classes in C++, in that abstract methods are specifically allowed to contain an implementation.
Besides abstract methods, Python also uses abstract properties. Python uses abstract base classes in the numbers [4] and collections [5] modules. That still leaves the question: When does a class become an abstract class? The class needs the ABCMeta metaclass. The methods can then be declared as @abstractmethod, and the properties as @abstactproperty using the corresponding decorators. In addition to this, the use of abstract base classes means the entry of static typing into a language that uses dynamic typing. In the example in Figure 2, the Cygnus class cannot be instantiated because it does not implement the abstract quack() method.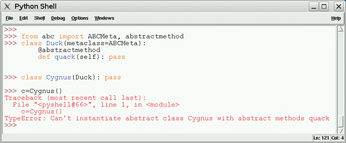 Multiple Processors
Python's response to multi-processor architectures is the new multiprocessing [6] library. This module imitates the well-known Python threading module, but instead of a thread, it creates a process, and it does this independently of the platform. The multiprocessing module became necessary because CPython, the standard Python implementation, could only run one thread in its interpreter. This behavior is dictated by the Global Interpreter Lock (GIL) [7].
Class decorators [8] round out the list in Python; from now on, you can decorate classes as well as functions.
Python 3.0 also has a new I/O library [9]. The string data type gained a new format() [10] method for improved string formatting. At the same time, the previous format operator, %, is deprecated in Python 3.1.
Comments
It is not named as snake, but you missed the point

The title of the article does not have anything to do with what inspired or not the creator of this language. The above comment just demonstrates the most ridiculous and basic lacking of any creativity or humor and denotes a very primitive and intolerant mind, which does not seem to even have noticed that the logo of Python is that of a SNAKE and not exactly a picture of Monty Python.

The article is very good.

Sadly, for some people it is easier to destroy and insult than to be creative and positive about anything.


Ancestor python

Yeah so what if it was not named after a snake. Monty Python's ancestors derived their surname from the python snake itself which was commonly found in their area where they originated from; so it's still from the snake. Heh heh!


Python is not named after a snake

It's hard to imagine how the author could get this so fundamentally wrong. Hear this: Python is not named after the snake; it's named after Monty Python, as any cursory survey of its history will reveal.
comments powered by

Disqus