Issue #135 / Feb 2012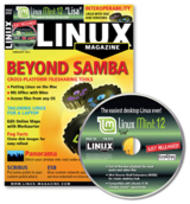 DVD: Linux Mint 12 "Lisa"
Issue #135
The easiest desktop Linux ever!...
Letter from the Editor
What's the top distro on the famous Distrowatch page hit ranking list? Not Ubuntu, OpenSUSE, or Fedora. According the Distrowatch, the hottest Linux is none other than Linux Mint – an Ubuntu-based, community-driven desktop system that is known for ease of use and efficient out-of-the-box multimedia functionality.
This month's DVD includes the latest release from the popular Linux Mint project.
LLVM 3.0 ReleasedYaCy Search EngineOnlineOpen64 5.0 Released...
The sys admin's daily grind: OpenRhineRuhr
According to Goethe, the best way to gain an education is to travel. Sys admin Charly went to Oberhausen, Germany, for the OpenRhineRuhr fair last week.
Interoperability and code reuse
Developing cross-platform apps can be difficult and error prone. We offer some tips to ease the work.
Recently, I was talking to a college professor who was complaining about the multitude of ways in which Linux works on various distributions. He was complaining that one distribution of Linux put a particular file in one place, and another distribution put a file in another place. He said it was hard for him to remember where each distribution put each file.
Chronicler Zack Brown reports on the latest news, views, dilemmas, and developments within the Linux kernel community.
Visit Our Shop
Direct Download
Tag Cloud