Issue #139 / Jun 2012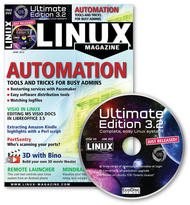 DVD: Ultimate Edition 3.2
Issue #139
This issue's DVD comes with the latest release of the Ultimate Edition distribution....
Editorial
Humans are storytellers. One could argue that journalists are even more like storytellers than other forms of humans, but then, you could also make the case that we just echo what is out there in the world.
Automation for Admins
...
This Month's DVD
This issue's DVD comes with the latest release of the Ultimate Edition distribution.
LF Grows
• The Linux Foundation welcomes four new members
• Gnome 3.4 released
• News Bites
New Releases
• Unbreakable Enterprise Kernel 2
• Vector Linux 7.0 Light
• Linux 3.3
• XBMC 11.0
Canonical's MAAS
• Metal-as-a-service provisioning tool
• Knoppix 7.0 with kernel 3.2.4
• SUSE milestones
Tech Tools
• MythTV 0.25 out
• Android emulator improved
• Qt 5 Alpha source only release
MythTV 0.25 Released
Android Emulator Improvements Announced
Qt 5 Alpha Released
Automated monitoring with Pacemaker resource agents
When a cluster node fails, the Pacemaker high-availability tool launches the services on another node. A lesser known feature is Pacemaker's ability to put failed services back on their feet in the cluster manager.
Comparing the M23 and Spacewalk software distribution systems
Keeping all the Linux clients in an enterprise environment up to date can be a major logistical challenge. Many harassed administrators appreciate a good software distribution system, especially if it is a free tool that doesn't stress the IT budget.
Monitoring logs with Logcheck and Logsurfer
Logfiles contain records of what happens on a Linux system and the services it runs. Tools like Logcheck and Logsurfer filter out the most important events for the administrator, and they can even trigger an appropriate reaction automatically.
Some automation tips from our authors and experts
We asked some of our authors to share their favorite automation tricks.
Visit Our Shop
Direct Download
Tag Cloud