User commands and logs
groups
As you might guess from the name, the groups command extracts selected information from the /etc/group file and displays it (Figure 9). With no options, groups lists information for the current user, but a valid username can be used as an option instead.

finger
For some reason, the finger command is not installed by default on the desktops of many distributions. However, if you are administering a multiuser system, it is well worth installing.
Without the use of any options, or with the -s option (Figure 10), finger followed by an account name lists the login name, the name, the interface, how long the user has been idle, when they logged in, their office, and their office phone number. If, like many home users, you leave the name, office, and office number blank when you create users, these columns will, of course, be empty.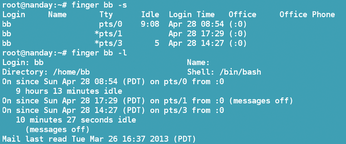 Using the -l option, you get the same information reformatted, plus the user's home directory and login shell, as well as the last time they received internal mail. For administration work, this option is probably the most useful.
w
One of the most useful commands for gathering information about users, w, is also one of the simplest. It shows what processes a user is running at the time the command is run.
Entering the w command plus a username (or omitting a username and defaulting to the current account) produces a table of information for the user (Figure 11). From left to right, the information is the user account, its terminal, its remote host (0 if none exists), the login time, the length of idle time, the JCPU or time used by all processes attached to the terminal, the PCPU or time used by the current process, and the name of the current process.

If you choose, you can run a shorter summary by using the -l option. The information displayed using the -l option omits the login time, the JCPU, and PCPU.
comments powered by

Disqus
Visit Our Shop
Direct Download
Read full article as PDF:
News
Both projects help organizations build their own containerized systems.

Mark Shuttleworth has resumed the position of CEO of Canonical.

Microsoft's open source code hosting platform CodePlex will come to an end after a more than 10-year stint.

Comes with Gnome 3.24

The bug was introduced back in 2009 and has been lurking around all this time.

The new release deprecates the sshd_config UsePrivilegeSeparation option.

Lives on as a community project

Five new systems join Dell XPS 13 Developer Edition that come with Ubuntu pre-installed.

The Skype Linux client now has almost the same capabilities that it enjoys on other platforms.

At CeBIT 2017, OpenStack Day will offer a wide range of lectures and discussions.
Tag Cloud