LibreOffice 4.0 tested
Presents
The developers have also implemented a couple of functions, for example, XOR(), AVERAGEIF(), SUMIFS(), COUNTIF(), and IFERROR() for the first time. The new XML Source dialog (Data | XML Source) lets you import arbitrary XML content into Calc.
The Gnumeric import filter is currently a work in progress. If you want to test this feature and provide feedback, you can enable the experimental function in the preferences below Tools | Options | LibreOffice | Advanced. Much work remains to be done (Figure 4); for example, the office suite repeatedly presented unusable data if a Calc sheet was not open when importing a Gnumeric file.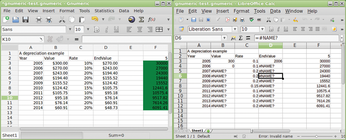 One of the highlights of the new LibreOffice version is remote control via an Android smartphone; the LibreOffice Impress Remote app is available from Google Play [5]. Cellphones can use Bluetooth to communication with the computer, switch Impress to full-screen mode for a presentation, and navigate the slides via swipes (Figure 5, right) or, optionally, using the volume keys on the phone (Figure 5, left). The app displays the time at the top edge of the screen to help the speaker keep track of time limits on the presentation.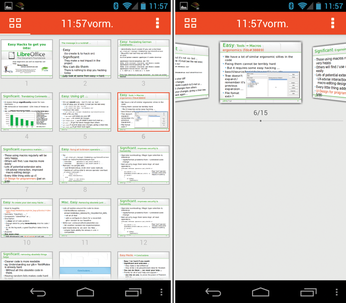 Right now, only Android users can use the remote control software. According to the developers, plans exist for a BlackBerry app, but other platforms such as iOS, Tizen, Nokia, Windows Phone 8, and so on could also have a chance if they find a developer willing to tackle the project. Volunteers are welcome!
Happy Birthday!
The new version is a successful and mature product; LibreOffice has every right to celebrate the 4.0 in its name. I expect the developers will soon fix the minor niggles in one of the future point releases.
comments powered by

Disqus
Visit Our Shop
Direct Download
Read full article as PDF:
News
Both projects help organizations build their own containerized systems.

Mark Shuttleworth has resumed the position of CEO of Canonical.

Microsoft's open source code hosting platform CodePlex will come to an end after a more than 10-year stint.

Comes with Gnome 3.24

The bug was introduced back in 2009 and has been lurking around all this time.

The new release deprecates the sshd_config UsePrivilegeSeparation option.

Lives on as a community project

Five new systems join Dell XPS 13 Developer Edition that come with Ubuntu pre-installed.

The Skype Linux client now has almost the same capabilities that it enjoys on other platforms.

At CeBIT 2017, OpenStack Day will offer a wide range of lectures and discussions.
Tag Cloud