AeroFS – An alternative to ownCloud or Dropbox
Local Cloud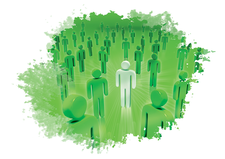 If you want to enjoy all the benefits of a cloud solution without losing control of your data, AeroFS offers an intelligent solution.
Dropbox and Google Drive are very useful tools: Without much effort, you can synchronize data between your computers, push data from your cellphone to your network, or collaborate with friends and colleagues.
However, there's a catch: You need to hand over control of your data. Without encryption with a self-generated key (e.g., as provided by an alternative like SpiderOak [1]), the provider could access the data stored in the cloud at any time. This problem can only be solved by an encrypted container in the cloud – or a self-hosted ownCloud installation [2]. However, not everyone has the knowledge and the resources to set up this kind of environment and operate it reliably.
AeroFS [3] offers a genuine alternative, which combines the convenience of Dropbox with the benefits of a private cloud. The service was opened to the public at the beginning of April 2012.
[...]
Use Express-Checkout link below to read the full article (PDF).
Read full article as PDF:
comments powered by

Disqus
Visit Our Shop
Direct Download
Read full article as PDF:
Tag Cloud