Encrypting files and drives
Lock and Key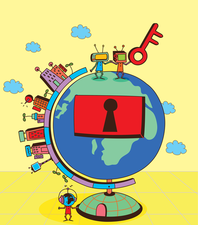 The security of personal data is a major topic in the Linux world. zuluCrypt gives users a tool for uncomplicated encryption of any data.
External data media are very popular. They allow you to back up large amounts of data quickly and easily, without spending a fortune on backup media. But, transportable hard disks or USB sticks can be easily lost or stolen because of their compact size and light weight. Therefore, you should never store your personal data on mass storage without protecting it with powerful encryption. With dm_crypt/cryptsetup and the zuluCrypt graphical interface, you can achieve this on Linux in next to no time.
Preparations
Under the free operating system, the standard method of data encryption is a combination of the dm_crypt kernel module and the cryptsetup command-line tool. You can use these to encrypt entire partitions and device files. The Linux Unified Key Setup (LUKS) extension contained in cryptsetup since version 1.0.5 also unifies the file format and allows the use of multiple keys. LUKS expands the encrypted data, adding a 592-byte header that stores the metadata and up to eight keys [1].
Almost all distributions have had cryptsetup in their repositories for some time now, so it can easily be set up using the respective package manager. In contrast, zuluCrypt usually requires a manual install because so far only a few distributions include it in their software collections. Only Arch Linux and PCLinuxOS provide packages for zuluCrypt; Mageia can use the packages from PCLinuxOS.
[...]
Use Express-Checkout link below to read the full article (PDF).
Read full article as PDF:
comments powered by

Disqus
Visit Our Shop
Direct Download
Read full article as PDF:
Tag Cloud