Measuring the Alcatel One Touch Fire Firefox OS phone against a comparable Android device
Fox Chase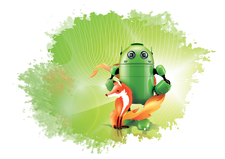 Firefox OS has come out of nowhere to challenge Android and iOS in the mobile operating system market. We'll show you what is different about Firefox OS and compare a recent Firefox OS phone with a comparable Android device.
Since the rise of web browsers and Internet technology, experts have predicted that a day will come when the browser emerges as a universal computer application – and everything you need to do on the computer happens in a browser window. The rise of cloud-based office suites, webmail, and social networking all seem to point to this inevitable victory of the browser, and the HTML5 standard [1] gives new capabilities to developers who want to leverage the powers of web.
Strangely enough, this futuristic vision of the universal web interface has not worked so well for the futuristic world of mobile computing. Although HTML5 web applications are out in the world right now running on mobile devices, the fact is, Android and iOS, and other platforms such as Windows Phone, maintain strict control over the development environment, and it does not suit the interests of corporations like Google and Apple to treat the mobile OS as a free and open place. If anyone is to invest in bringing the OS-as-browser vision to the mobile arena, it would have to be a non-profit with a preference for standards, an interest in fostering web technology, and enough resources to take on a really huge project.
The one organization with the power to challenge the tech giants by bringing out a browser-based mobile operating system is the Mozilla Foundation [2]. Mozilla has been all about the web from the very beginning. The foundation was created as a home base for the Mozilla browser, which needed a landing place when AOL defunded the open browser project it inherited from Netscape. Mozilla scored a big hit with the Firefox browser, which is now used on Linux, Windows, and Mac systems around the world. We all know that Firefox is profitable, but many don't realize that Firefox is also quite lucrative. According to some reports, Mozilla gets as much as US$ 300 million per year from Google for making Google the default Firefox search engine. You might be wondering what the Mozilla Foundation does with all that money. As a non-profit, Mozilla has no shareholders looking for dividends; nor are they particularly concerned with building empires or conquering the world as a for-profit corporation would be. Like most non-profits, Mozilla follows its own stated mission, which is to "…promote openness, innovation, and opportunity on the Web [3]." Mozilla thus has both the resources and the motivation to take on the big mobile OS vendors, who so far have downplayed the powers of HTM5 in favor of closed (and more easily controlled) platform-specific APIs.
The result of Mozilla's effort to bring the browser-as-platform vision to the mobile industry is Firefox OS – a Linux-based mobile operating system designed to compete with Android and iOS [4]. Firefox OS (Figure 1) began as the Boot to Gecko (B2G) project, a very descriptive name that highlights the goal: to boot the device into an operating system centered around the Gecko HTML rendering engine used with Mozilla's browser products. In other words, they wanted to build a whole system based on processing HTML.
Since the first announcement of the Boot to Gecko project 2012, Firefox OS has run on a variety of hardware, from rooted Android devices to Raspberry Pi, but as is always the case in the Mobile industry, the real measure of success is to get the system put on real phones for commercial release. By that standard, Firefox OS has had some significant initial successes. Although Mozilla currently has no plans to bring a phone to the US market, Firefox OS systems have already appeared in Spain, Germany, Italy, and elsewhere around Europe. But, according to Mozilla Foundation chairperson Mitchell Baker, the real target for Firefox OS is developing countries, where shaving a few cents off the cost of the system could have a significant effect on whether the phone is affordable. Perhaps more importantly, an open platform could be far more successful at galvanizing a local developer community than the heavily controlled development environments centered around Android and iOS.
Because the first generation of Firefox OS phones is now reaching the market, I thought it was a good time to try out a representative phone system – and compare it to a similar-grade Android model. Of course, it is difficult to look at a mobile OS in isolation; still, what you see is what you get, and the user experience is inevitably tied to the phone and OS together.
ZTE sells its Open ZTE with Firefox OS successfully in South America; Alcatel has also been represented there for some time with the One Touch Fire, which is also popular in Europe and sells for around 89 euros. This article compares the Alcatel One Touch Fire with a comparable Android device: the Huawei Ascend Y300.
OS or Browser?
What does a browser have to do with an operating system for a cell phone? As mentioned previously, Firefox OS – like Android – is a lean Linux. On these underpinnings, Mozilla builds its WebAPI, which – with the help of the Gecko HTML rendering engine. Apps are therefore written as websites using HTML5, CSS, and JavaScript. The WebAPI ensures that the apps and the hardware understand one another.
In Firefox OS, anything you can see on the display is ultimately a website. The application prepares data in the form of HTML, which is then rendered and displayed by the system. This approach makes it fast and easy to develop applications for Firefox OS; the most important background element (the mobile web environment) already exists, and the developer is free to focus on the details.
Firefox OS has all the essentials of a basic smartphone. The dialer is fairly standard (Figure 2). A navigation system is based on Nokia's HERE maps (Figure 3). Facebook, Twitter, and YouTube are available as apps in the app drawer (Figure 4), and the marketplace provides access to many more apps and games. All too often, though, the functionality of these applications does not go beyond that of a mobile website.
Firefox OS vs. Android
The Alcatel One Touch Fire (Figure 5) is not the first Firefox OS cellphone in Germany, but it is the first Firefox device to be officially distributed in greater numbers in the country.
The 89-euro price tag for the One Touch Fire seems remarkably inexpensive, but Android isn't far away. You won't need to spend more than 100 euros for a modern Android smartphone today. The price of the popular Internet Huawei Ascend Y300 (Figure 6) is about 99 euros – just 10 euros more than the cheap Alcatel device. Both devices are equipped with everything you would expect from a smartphone, but how do they play with the everyday user?
The Operating System
Firefox OS has a number of strong points compared with Android. For example, the system is simple. When you pick up the Alcatel phone for the first time, you can practically get started immediately. Unlike Android, Firefox OS does not necessarily require an account. You don't even need an account to install apps from the marketplace. You only need to set up an account if you want to evaluate or buy apps.
Unlike Android, the Firefox home screen itself does not offer any widgets, only one search bar (Figure 7). You use the search bar like the browser on your PC to launch a web search. When you press any entry, the matching webpage appears.
Otherwise, you use the Firefox cell phone in similar way to an iOS or Android phone. Pressing the home button at any time takes you back to the home screen; pressing the button for a little longer toggles the currently active apps. In this view, you can terminate active applications by simply swiping them out at the top of the window. You will be familiar with this principle from Android, which gleaned this method from WebOS.
comments powered by

Disqus
Visit Our Shop
Direct Download
Read full article as PDF:
News
Both projects help organizations build their own containerized systems.

Mark Shuttleworth has resumed the position of CEO of Canonical.

Microsoft's open source code hosting platform CodePlex will come to an end after a more than 10-year stint.

Comes with Gnome 3.24

The bug was introduced back in 2009 and has been lurking around all this time.

The new release deprecates the sshd_config UsePrivilegeSeparation option.

Lives on as a community project

Five new systems join Dell XPS 13 Developer Edition that come with Ubuntu pre-installed.

The Skype Linux client now has almost the same capabilities that it enjoys on other platforms.

At CeBIT 2017, OpenStack Day will offer a wide range of lectures and discussions.
Tag Cloud