Knoppix 7.3 CeBIT Edition
Go Live!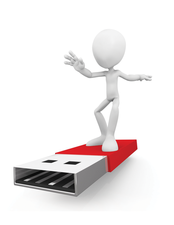 Knoppix 7.3 comprises the current state of Debian GNU/Linux development and comes with the current hardware support of kernel 3.13, a new update function, and extended security and privacy features.
Keeping a distro current with GNU/Linux development can be quite difficult. Debian's boot system and hardware support via udev can make it difficult for the developer of a Linux distribution to figure out what needs to change just to boot up. Lucky for me, Knoppix's boot system again proved to be a big timesaver. Knoppix completely works around the Debian default startup systems (Upstart/systemd) by using knoppix-autoconfig, a single shell script that does all the work of preconfiguration (Figures 1 and 2). Kernel support for devtmpfs had to be enabled to get the new udev hardware detection and removable device support working again, but the rest of the transition to the Debian testing branch (pre-jessie) went pretty smoothly.
Knoppix on Flash – Now with Update
Many modern netbooks and ultrabooks do not even have a DVD drive anymore, so Knoppix is commonly used on a USB flash disk instead of a DVD. Because creating a bootable USB flash disk is probably the first thing you want to do, Knoppix 7.3 now prominently shows an icon for the Knoppix flash disk installation program at the top left of the desktop when booting from DVD (Figures 3 and 4). Even though the Knoppix DVD version is read-optimized by a sort list, which tries to reduce the slow seek speed of the laser read sensor, flash memory boosts startup and the working speed of Knoppix by a factor of at least five. Startup time from loading the kernel to a full desktop with Compiz takes less than 15 seconds if you have recent computer hardware and fast flash pen drives.
One of the features most asked for last year was the ability to upgrade. Flash-knoppix, the Knoppix flash disk installation program, now scans the target drive for an existing Knoppix installation (Figure 5) and offers to replace just the main compressed filesystem and kernel, instead of installing everything from scratch.
[...]
Use Express-Checkout link below to read the full article (PDF).
comments powered by

Disqus
Visit Our Shop
Direct Download
Read full article as PDF:
Tag Cloud