Perl spies on a sniffer
Always an Event
In contrast, the event database table stores the timeline for the events snapped up by the Zeitgeist daemon. The SQL query in Figure 5 retrieves a few recent sample records of events along with their matching timestamps. Numeric indexes are used to reference other tables, for example, uri, in which the index is mapped to a text entry.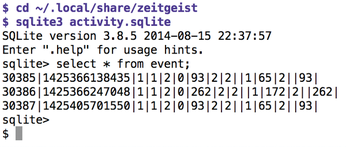 The timestamp format used by Zeitgeist in the timestamp column, however, is not one that is directly supported by SQLite; instead, it gives you the Unix time since 1970 in seconds, followed by three more digits that give you thousandths of seconds.
Listing 2 extracts the desktop actions for the last 12 hours from the event table. It needs to convert the Zeitgeist date in the SQL command it sends as follows
date(substr(timestamp,1,10),'unixepoch')
into SQLite format. With this in place, it can easily compare the recorded timestamps with the time window defined in the SQLite dialect in the form of a handy date('now', '-12 hours') expression.
The while loop as of line 22 processes all result records and accumulates the application URLs in the %apps hash. The for loop as of line 28 then groups the entries in descending order by counter status and outputs the results.
Figure 6 shows the output from Listing 2; it seems that an xterm window was opened 18 times in the period under review, and that I created a total of six screenshots.

Monitoring Time Clock
How much work did the user put in during the past 24 hours? Did the user just click around on the desktop? Listing 3 discovers such things by searching through the event activity table for the previous day's entries and incrementing a counter for each hour by one if a desktop event occurred in the time slot.
Burning the Midnight Oil
The %activity hash in line 28 increments by one if an event occurs within a specific hour. Finally, the while loop in lines 36-41 only needs to count up hour by hour from the previous day's date to the present and output the events using printf.
The output in Figure 7 confirms that the user only worked between 7pm and 11pm – true to the motto that "lazy people get busy at night." Or, maybe it was because the not-so-lazy user was working hard all day at the office and then sat down at their home computer in the evening to compose an article for Linux Pro Magazine?
comments powered by

Disqus
Visit Our Shop
Direct Download
Read full article as PDF: