Cut videos and add effects using Lightworks
Working with Sound
The software handles audio files much like their video counterparts: An audio clip contains audio tracks with a black background whose video track is essentially disabled. You can also just use the audio part of videos by disabling the video track.
To do so, open a clip in the Content Manager by double-clicking it. You'll find the track display in the bottom-right corner of the editor with the markers V1, A1, and A2. You can select the in and out points of the audio clip for the video track. Then, you can replace this selection with an existing audio track or insert the selection as described for the videos (Figure 7).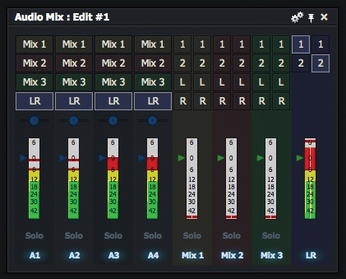 A small, integrated mixer for audio files can be used to adjust the film's sound as required. Just open up the Settings menu – either via the button with the gear icon in one of the windows or via the context menu. Then, choose the Audio Mixer Panel entry.
Using this button, you can set the input channels to mix channels, which you can in turn assign to the left or right output and thus control the corresponding volume everywhere. This way, you can coordinate a video's background music and original sound, among other things.
Export
The biggest limitation with the free version of Lightworks is its export function. You can open the Export dialog via the toolbar (Figure 8), and two options are available under Format: the Lightworks archive is for saving projects for processing later, and YouTube is Lightworks' name for MP4/H.264 files. These are again limited to 720p format. Only the Pro version allows you to export files to other, more professional formats.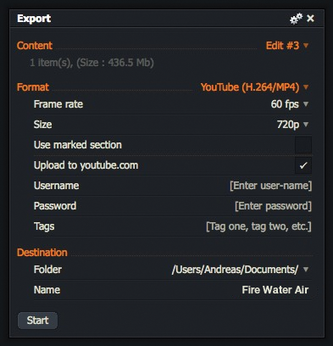 Choose the YouTube export format. Then, set the Frame rate and resolution. Under Destination, you can determine a location on the hard disk and give the file a name. You can then start the export by clicking Start, or you can upload the video directly to the video platform.
You just need to enter your username and password. In testing, I experienced some issues with the direct upload option, which occasionally terminated. This isn't Lightworks' fault, but rather the fault of the website's interface. Exporting onto a hard disk before uploading via the browser is thus an easier option.
Conclusions
Lightworks is generally aimed at professional filmmakers. However, the attractive pricing means anyone can cut videos professionally for free as long as they don't need a full HD output format. People swapping from other editing programs might need a bit of time to get used to it, because not every mouse click appears logical at first. Those using the program frequently, however, will quickly achieve their goal using Lightworks, and they can refer to numerous tutorials [3] and a detailed manual [4] for additional help.
comments powered by

Disqus
Visit Our Shop
Direct Download
Read full article as PDF: