Microsoft's PowerShell for Linux
New Shell on the Beach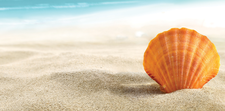 Microsoft released its PowerShell under a free license in August 2016 and ported the tool to Linux and Mac OS. Is PowerShell for Linux a mere marketing ploy or a real contender that can compete with native Linux shells?
Microsoft has done its part to perpetuate its image as the bogeyman of the Open Source movement. Who could forget the advertising campaign in which Microsoft gave penguins the mutant heads of other animals – such as a frog with antlers, implying that an open operating system with parts from different places is somehow unnatural? Or when former Microsoft CEO Steve Ballmer called Linux a "cancer" [1]?
For a few years now, however, Microsoft has been toning down its rhetoric and pursuing something more like an appeasement policy, with vague statements about whether Windows would one day have an open license; Microsoft even perplexed the community at one point when it announced it was about to develop its own Linux for its cloud [2].
Recent signs, however, point to genuine improvement in the Microsoft-Linux relationship. A photo from LinuxCon 2016, which made the rounds on social media, showed Linux creator Linus Torvalds standing by the Microsoft booth, comfortably sipping a cup of coffee [3]. In 2000, Torvalds made an April Fools joke out of naming Microsoft as a partner for Linux development work. What once was a joke is now reality, and the biggest evidence of Microsoft's commitment to Open Source is the recent release of the Windows PowerShell command environment under a free license, along with the announcement that Microsoft was porting PowerShell to Linux and Mac OS.
[...]
Use Express-Checkout link below to read the full article (PDF).
comments powered by

Disqus
Visit Our Shop
Direct Download
Read full article as PDF:
Tag Cloud