We test drive the latest Skype for Linux
Speak to Me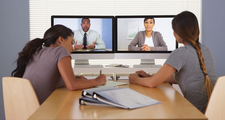 The old Microsoft gave the cold shoulder to Skype for Linux, neither updating it nor equipping it with new features. The new Microsoft promises to do better, with a brand new alpha prerelease version of a Linux client for the famous telephony tool.
Skype [1] has been around since 2003, and Microsoft took over the service in 2011. The free program supports instant messaging, IP telephony, video conferencing, data transmission, and screen sharing. Skype versions for Android, iOS, and Windows Phone are also available. Even though Skype uses a proprietary protocol, and it is not considered secure, it has remained the leading IM and telephony solution for many users, partly because it is available for all major operating systems and platforms.
Linux users, however, have been out in the cold since 2014. The last version of Skype that runs on Linux (Skype 4.3 for Linux) only supported 32-bit architectures, and many Linux users experienced problems getting it to work consistently. Skype 4.3 for Linux installed on many Linux distributions with a modicum of effort, but it was missing important features such as video conferencing. On July 13 of this year, Microsoft announced a new alpha version for the Linux desktop in a blog post [2]. Microsoft's newfound affection for Linux was evident in the announcement, which stated, "This release reaffirms our commitment to an important group of people – the Linux community."
Version 1.2.0.1 of Skype for Linux is still in an early stage of development. Many features haven't been implemented yet, but you can already experience some important improvements, such as a faster and more feature-rich Skype UI. Microsoft says it released the alpha version to get feedback from the community, so we decided to start it up and try it. We tested the new Linux client on Ubuntu 16.04 (Unity) and openSUSE Leap 42.1 (KDE Plasma), and we also phone-called Windows, OS X, and iPhone users.
[...]
Use Express-Checkout link below to read the full article (PDF).
comments powered by

Disqus
Visit Our Shop
Direct Download
Read full article as PDF:
Tag Cloud