The new display servers
Changing of the Guard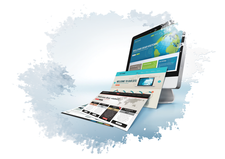 The X Window System, which dates to the 1980s, still forms the basis of Linux's graphical user interface, but it does cause some despair among developers with its legacy ballast and outmoded technology. Wayland and Mir are two promising candidates for the changing of the guard.
The good old X Window System consists of an X server that receives events from input devices and draws the graphics on the screen. On top of this system is a compositor, which records the positions of Windows and adds novel graphical effects as needed (Figure 1). Desktop environments add a window manager that decorates every window with a frame.
All of these components need to communicate through a time-consuming process. The cumbersome structure and outdated complexity of the X system bothered programmer Kristian H¯gsberg, so he designed an alternative back in 2008, which he dubbed Wayland [1]. H¯gsberg kept to the core functions that a display system currently needs to provide on Linux. He also set out to design Wayland so that it would avoid tearing, lag, flicker, and unnecessary redrawing of modified screen areas [2].
The result was a surprisingly sleek and efficient system. Media reports increasingly attracted the attention of supporters to H¯gsberg's new display server architecture.
[...]
Use Express-Checkout link below to read the full article (PDF).
comments powered by

Disqus
Visit Our Shop
Direct Download
Read full article as PDF:
Tag Cloud