Mastering a power outage in the smart home
Thriving Without Power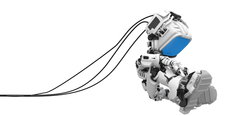 A power failure can cause the IQ of a smart home to plummet suddenly. An emergency power supply and a script on the SmartThings platform can prevent a total outage and inform the owner. The polyglot Perlmeister embarks on a foray into the territory of the Groovy scripting language in this issue.
Hard to believe but a sad reality: Even in major cities in the United States, power outages from one second to the next are not uncommon, whether because of the wild mess of overhead cables stretching between houses in the City of San Francisco (Figure 1) or because the electrical infrastructure of the substations is outdated and starting to crack under the strain. You should always expect the worst as a smart homeowner and implement strategies, just in case the power stops flowing for a few hours. Even if you live in a country with a more stable power supply, you will still appreciate the fail-safes introduced here. Then, if a shrewd burglar takes the precaution of removing a fuse before invading your privacy, they will definitely get a good scare when the alarm still goes off!
Emergency Power
In case of an outage, I want my key automation components, such as the controlling hub and its connection to the Internet – including the path thereto encompassing the router and cable or DSL modem – to continue working without electricity. If you limit yourself to keeping just a few essential components alive during a power outage, the consumption adds up to just a few watts; even a cheap battery-backed emergency power supply for less than $50 can keep this minimal infrastructure alive for a while.
Choosing the Hardware
Devices known as uninterruptible power supplies (UPSs) typically specify their characteristics in volt-amperes (VA), which is unfortunately not sufficiently helpful to answer the most fundamental question: How long will they keep a consumer with a known power consumption rate running? To find out, you need to know more about the fundamentals of the internal batteries and plug this information into a formula [1] that will give you the number of minutes to the point of exhaustion.
[...]
Use Express-Checkout link below to read the full article (PDF).
comments powered by

Disqus
Visit Our Shop
Direct Download
Read full article as PDF:
Tag Cloud